Vegan fig caramelised onion pizza, restaurant-style gourmet food in the comfort of your own home! This healthy vegan pizza is packed with vegetables and has an optional spelt and buckwheat flour crust.
Ingredients you'll need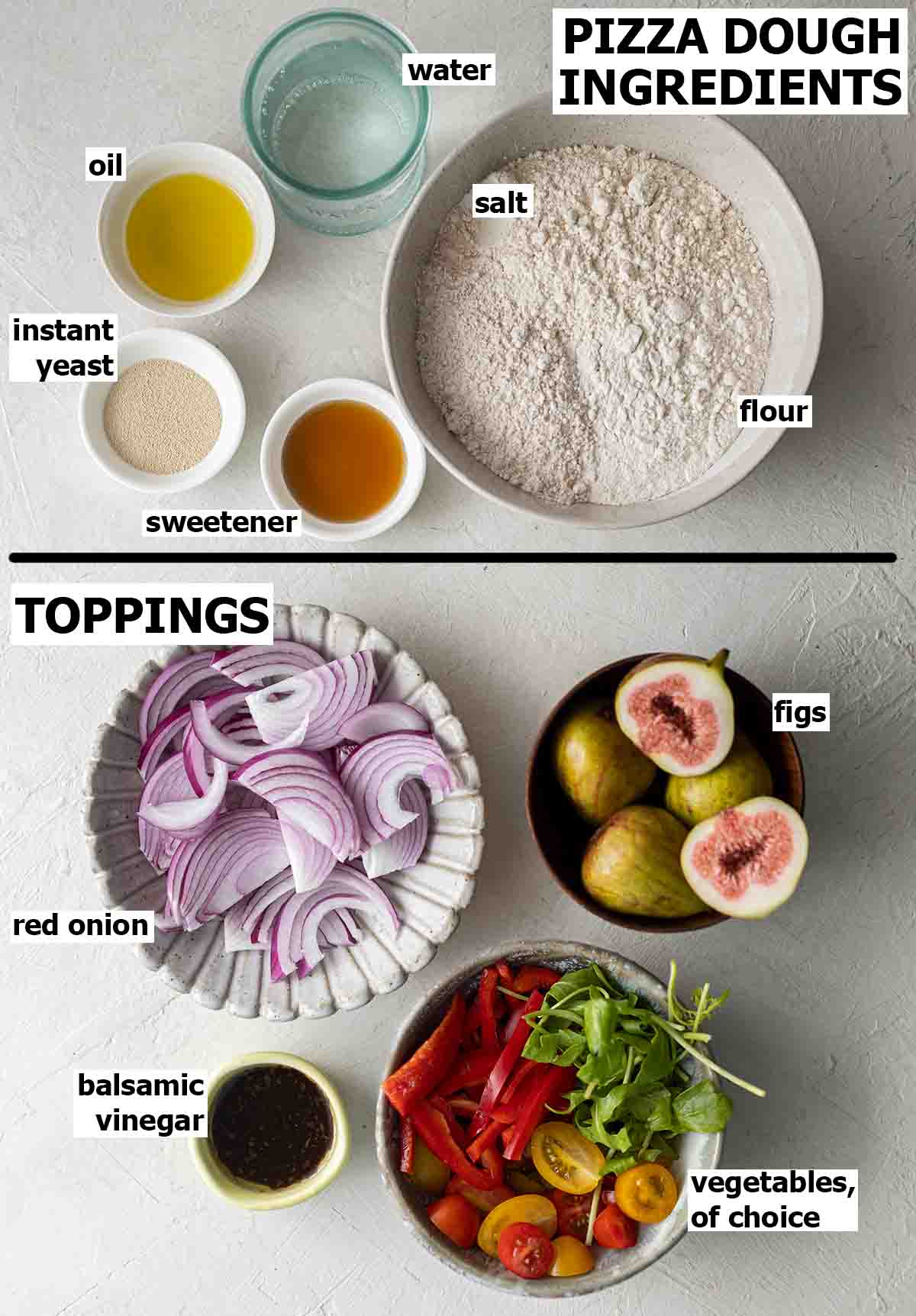 Notes about the ingredients
All-purpose or bread flour. I'd recommend using bread flour for a more authentic and fluffy pizza base! If you'd like a healthy pizza base, you can use a mixture of spelt and buckwheat flour (featured in the photos in this post). Alternatively, feel free to use a store-bought pizza base.
Vegetables of choice, such as capsicum and tomato. For any big vegetables, I'd recommend slicing them as thinly as possible so they cook at the same time as the pizza base.
A complete list of ingredients, quantities and instructions are in the gray recipe card at the bottom of this post.
Making the healthy vegan pizza base
If you're using instant yeast, you can simply add all the ingredients to a bowl (or bowl of a stand mixer) and knead until combined.
If you don't have a stand mixer, knead the dough on a floured surface rather than in the bowl! You can even use a food processor, like Recipe Tin Eats!
The dough is ready when it's soft and stretchy. There shouldn't be any large cracks in the dough. And the dough shouldn't stick to the side of the bowl or kneading surface. Of course, the consistency of your dough will depend on your ingredients, your climate and other factors.
If the dough is too dry, simply knead in more water. Conversely, if it's too sticky, knead in more flour!
If you used spelt/buckwheat flour like me, your dough may not be as stretchy as regular pizza dough due to the absence of gluten in buckwheat. However, your dough should still be soft!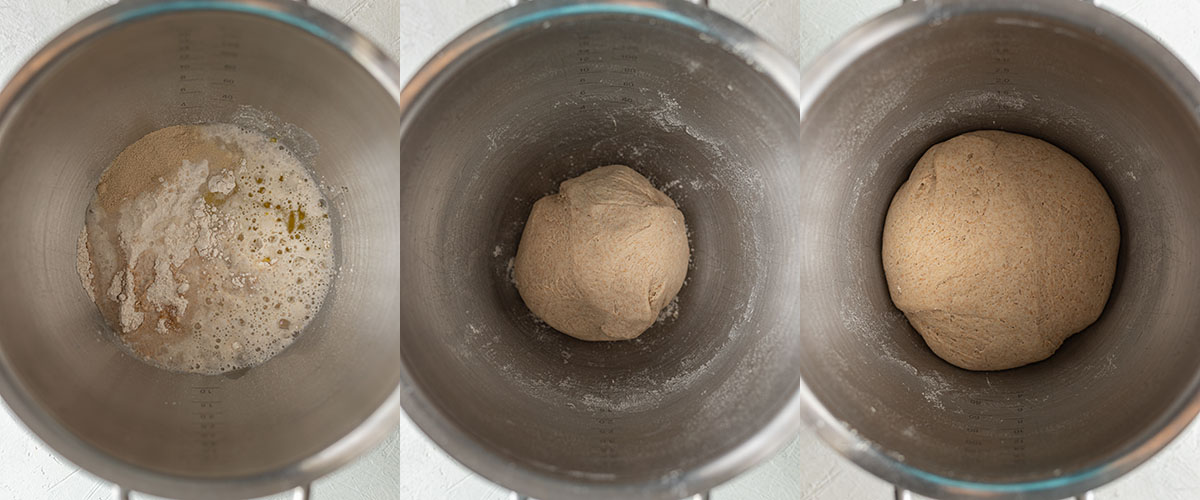 How to caramelise onions
The caramelised balsamic onions are my FAVOURITE part of this fresh fig pizza. They add flavour, depth and sweetness which elevates all the other ingredients.
First, simply saute the sliced onion and oil in a large saucepan over medium heat. Normally we'd use high heat to saute onion and vegetables but to caramelise onions, we need a lower heat.
Once the onions are slightly golden brown, add your balsamic vinegar and sweetener. Reduce the heat to low to allow the onions to slowly soak up the flavours.
Tip: if at any point, your onions or balsamic vinegar sticks to the bottom of the saucepan, add a dash of water to deglaze the pan and continue cooking. The water will evaporate!
Eventually, your onions will be soft, gooey and caramelised. Pure perfection!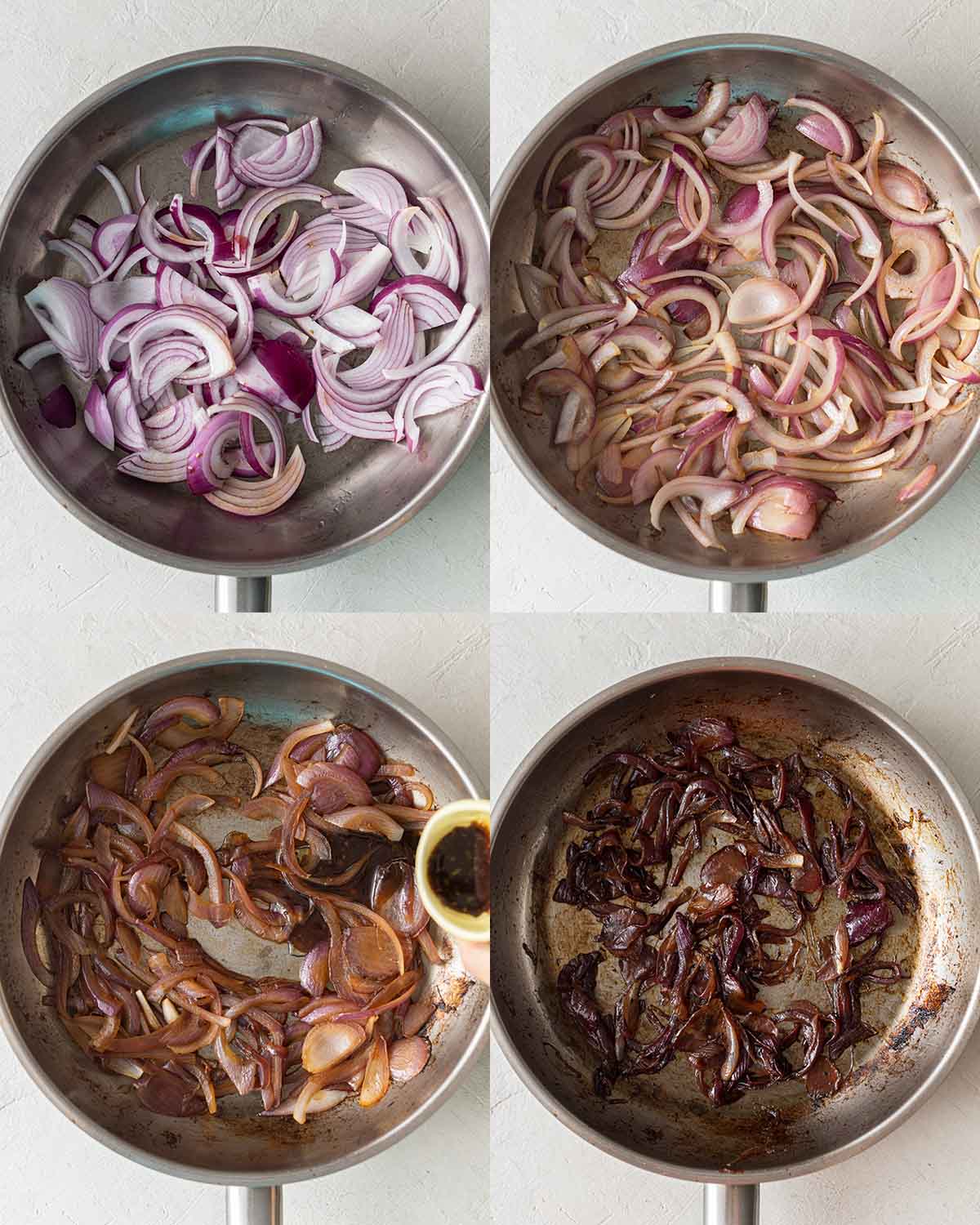 Assembling the fig caramelised onion pizza
Homemade pizzas are best cooked on a pizza stone or heavy-duty baking tray. Conventional baking trays can warp when they're at a high heat (which is needed for baking pizzas).
To flatten the healthy vegan pizza dough, you can use your fingers or a rolling pin. For ease, I flattened my pizza ON my baking tray. However, you can flatten your dough on your kitchen bench then transfer it to your baking tray.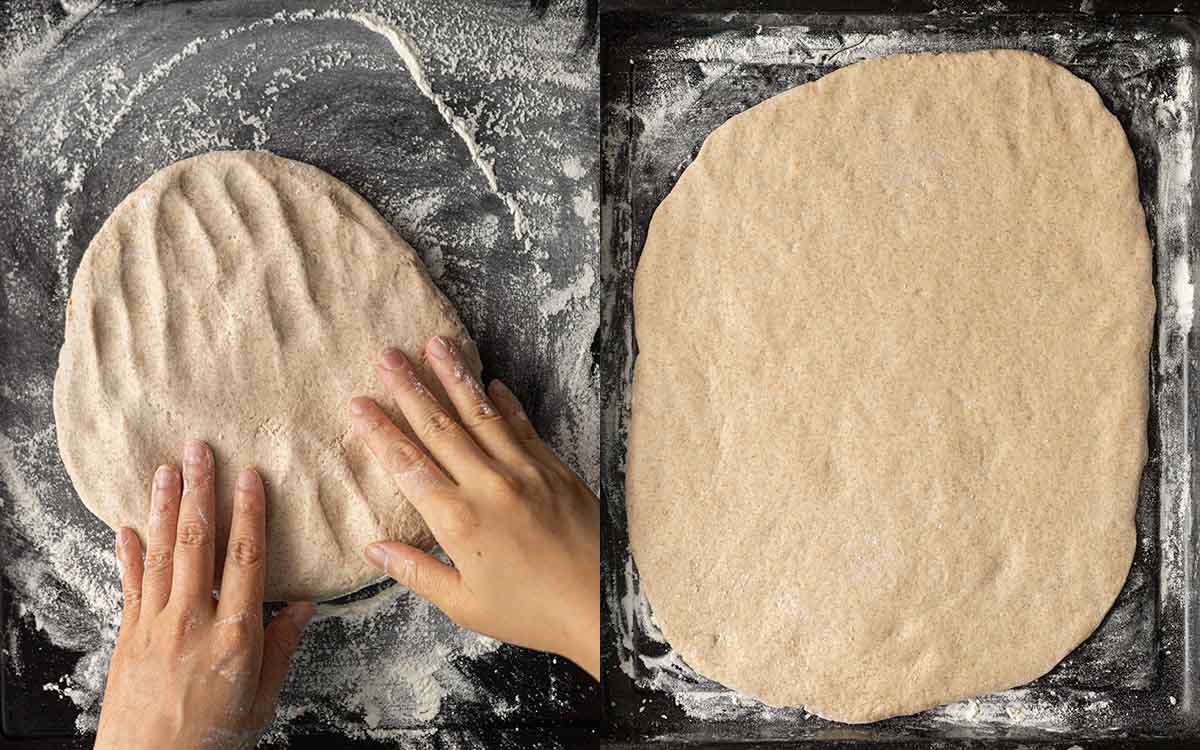 There are no rules for assembling the toppings. However, I'd recommend the following order:
Vegan mozzarella cheese (if using).
All the vegetables and fresh figs.
After baking, top with soft cheese and rocket/argula.
Baking the vegan pizza
One large pizza takes about 10-15 minutes to bake in a preheated oven. If you're making 2 or more pizzas, you'll probably only need around 5-10 minutes.
The pizza is ready when the crust is firm and crispy to the touch and the toppings are cooked.
More lunch and dinner ideas
Follow Rainbow Nourishments on Instagram, Facebook, TikTok and Pinterest, and subscribe via email to receive all of our latest recipes!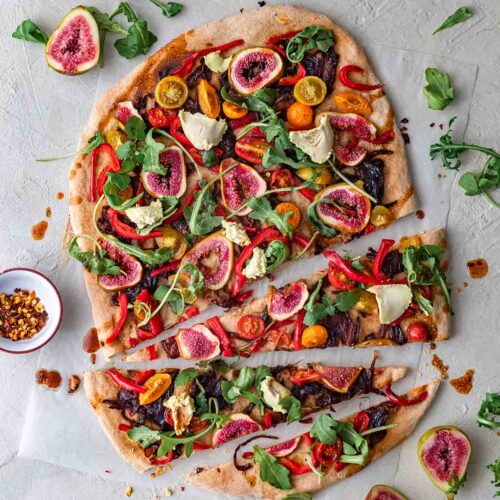 Print Recipe
Fig and caramelised onion pizza with a buckwheat crust
Vegan fig and caramelised onion pizza which is restaurant-style gourmet food in the comfort of your own home! This healthier pizza is packed with vegetables and has an optional spelt and buckwheat flour crust.
Ingredients
Caramelised balsamic onion
1

medium red onion

,

thinly sliced

2

tablespoons

balsamic vinegar

,

plus extra to serve

2

tablespoon

granulated sugar,

or sweetener of choice
Toppings
½

cup (80g)

vegan mozzarella-style cheese

,

grated (optional)

1

cup

vegetables

,

such as thinly sliced capsicum and/or tomatoes

3

medium fresh figs

½

cup (80g)

vegan soft vegan cheese

,

such as goat's cheese or cream cheese (optional)

1

cup (30g)

fresh rocket/arugula
Instructions
To make the pizza dough
Add all ingredients to a medium bowl or bowl of a stand mixer with the dough hook attachment. Mix until combined then knead for 5-10 minutes until the dough is soft and stretchy but isn't sticky. Add a little more water if the dough is too dry or add a little more flour if the dough is too sticky.

Place the dough in a lightly floured bowl and cover with a tea towel. Place the bowl in a warm spot and let it rest for at least 1 hour or until it has doubled in size (note 4 for overnight version).
To make the caramelised balsamic onions (this can be done while the pizza dough is rising):
Place a large saucepan over medium heat. Add the onion and a dash of oil. Saute the onion for 5 minutes until slightly golden.

Stir in the balsamic vinegar and your sweetener and reduce the heat to low.

Slowly cook the onions for 10 minutes while stirring occasionally. If the onions or balsamic vinegar starts to stick to the bottom of the saucepan, add a dash of water to deglaze the juices. When the onions are soft and caramelised, remove from the heat.
To shape the pizza dough:
When the dough has doubled in size, punch it down to release any air.

Heavily flour 1-2 baking trays or pizza stones. Gently flatten the dough into 1-2 pizza shapes. Allow the pizza to rest for at least another 30 minutes or until it's soft and puffy again.
Assembling and baking the pizza:
Preheat the oven to 220°C (430°F).

If using vegan mozzarella-style cheese, sprinkle on the pizza dough.

Scatter the caramelised onions on the pizza, fo,lowed by the vegetables and figs.

Bake the pizza in the oven for 10-15 minutes or until the crust is crispy and the toppings are cooked. If you're baking 2 pizza, you may need to bake them for only 5-7 minutes.

Garnish the pizza with soft vegan cheese and fresh rocket/arugula. Drizzle with extra balsamic vinegar if desired. Enjoy!

The pizza is best eaten fresh but can be stored in an airtight container in the fridge for up to 3 days. Reheat leftovers in the oven or in a saucepan over low heat.
Notes
Alternatively, you can use 1 ½ cups (180g) spelt flour and 1 cup (120g) buckwheat flour.
Instant yeast doesn't need to be 'activated' or 'bloomed' beforehand. However, if you use another type of yeast, combine it with warm water and a pinch of sugar beforehand. Wait until it bubbles then use it in the recipe.
Most sweeteners will work here including regular sugar, brown sugar, coconut sugar, maple syrup etc. However, don't use sweeteners like monk fruit or stevia as they won't work with yeast.
Alternatively, you can make the dough the night before. Place the kneaded dough in a lidded container twice as big and chill it in the fridge. The next day, allow the dough to come to room temperature then flatten into a pizza shape.
Nutrition
Serving:
1
serve with only 1 type of vegan cheese
|
Calories:
547
kcal
|
Carbohydrates:
88
g
|
Protein:
14
g
|
Fat:
17
g
|
Sodium:
157
mg
|
Potassium:
534
mg
|
Fiber:
8
g
|
Sugar:
18
g
|
Vitamin A:
3768
IU
|
Vitamin C:
16
mg
|
Calcium:
158
mg
|
Iron:
6
mg
This recipe was originally published in 2019 and updated in 2022 with more helpful pictures and information.
This post may contain affiliate links. As an Amazon Associate, I may earn a small commission from qualifying purchases at no additional cost to you.