Easy 7 ingredient vegan self-saucing pudding with a delicious blackcurrant sauce. The recipe uses only common pantry staples and take only 30 minutes to prepare and bake!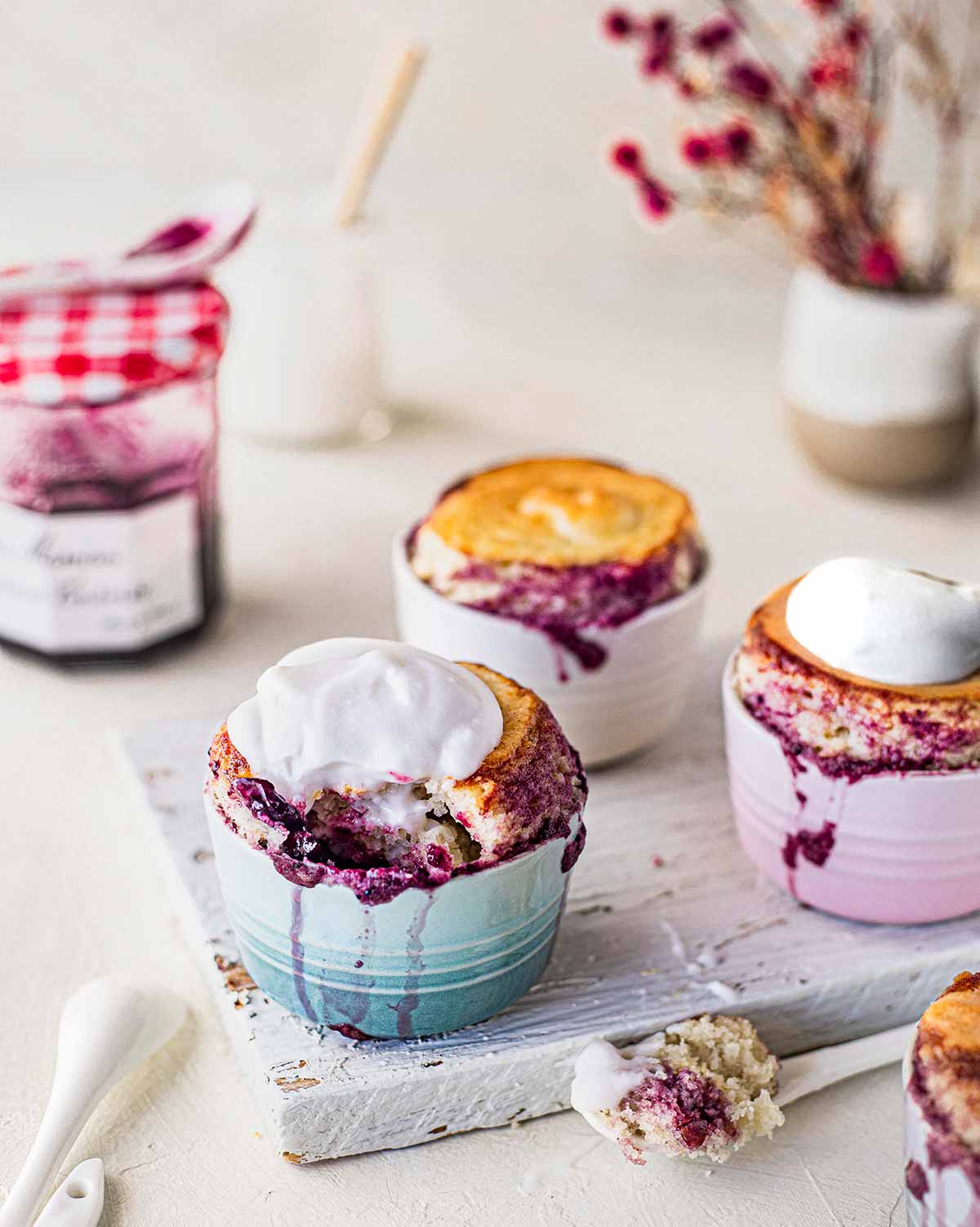 This is seriously easiest vegan pudding recipe! With a few simple ingredients, you'll get a dessert which hits the spot, comforting yet not too heavy.
Ingredients to make this vegan pudding
This recipe uses common pantry staples including:
Plain aka all-purpose flour
Plant-based milk such as soy, coconut or almond
Granulated sugar such as cane or coconut
Liquid oil such as sunflower
Baking powder
Vanilla extract (I used homemade)
Blackcurrant conserve (I used Bonne Maman) or conserve/jam of choice
Water
4-6 mini ramekins (I used these mini Le Creuset ramekins)
Since this is a vegan recipe, it is dairy-free and egg-free!
Making the 'sauce' for the self-saucing pudding
First, combine the blackcurrant conserve and a little water in a bowl. Then divide the jammy mixture into 4-6 ramekins.
Some self-saucing pudding recipes ask for boiling water. I tried the puddings with and without boiling water and honestly... it doesn't make a difference. If we can take a shortcut and have the same result, why not?!
Making the one-bowl vegan pudding mix
Add all the dry ingredients to a bowl and mix until there are no big lumps. We don't want acidic bits of baking powder in our puddings! Then add all the wet ingredients and mix until combined.
Your batter might be a little lumpy but as long as it's not lumps of dry flour or baking powder, it doesn't matter!
Then spoon the batter into your ramekins, around ¾ of the way.
To bake your puddings, just pop them in your oven as is!
You don't need a bain-marie or tray of water in your oven. I tried them with a bain-marie and it made the puddings too stodgy. These puddings bake perfectly without any additional water in the oven.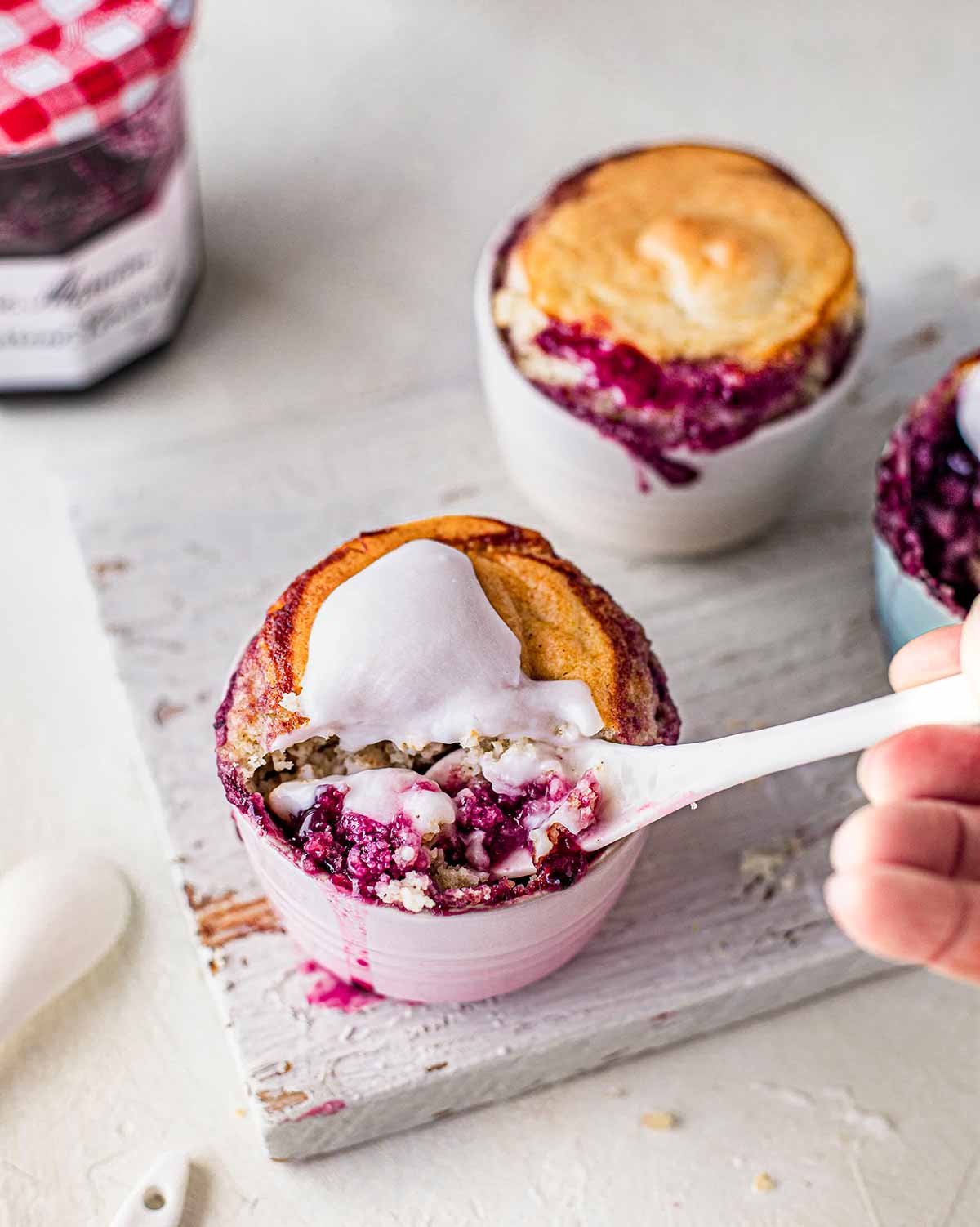 How to serve vegan puddings
These puddings are wonderful served with something creamy, such as:
Dairy-free yogurt
Whipped dairy-free cream or pouring cream
Vanilla or chocolate ice cream
More comforting vegan desserts
Print Recipe
Easy Vegan Self-saucing Pudding
Easy 7 ingredient vegan self-saucing pudding with a delicious blackcurrant sauce. The recipe uses only common pantry staples!
Instructions
Preheat the oven to 180°C (350°F).

To make the sauce: Combine the conserve and water in a small bowl. Divide the mixture into 4-6 mini ramekins.

To make the pudding: Add all the dry ingredients to a mixing bowl. Whisk until there are no big lumps of flour or baking powder. Add all the wet ingredients to the bowl. Mix until combined and there are no more lumps of dry ingredients.

Using a medium-size spoon, spoon the batter into the mini ramekins. The blackcurrant sauce will float up the sides of the ramekins which is fine!

Bake the puddings in the oven for 15-20 minutes. They are ready when the tops are golden and a skewer can be inserted into a pudding and there is no wet batter on it.

Enjoy the puddings immediately with a scoop or ice cream or plant-based yoghurt. Leftovers (if any) can be stored in an airtight container in the fridge for up to 3 days.
Notes
Coconut sugar will work for this recipe but it will make your pudding slightly brown and give it a caramel taste. The specified amount of sugar (2 tablespoons) will create a slightly sweet pudding which complements the very sweet jam. Feel free to add more sugar to taste.
Nutrition
Serving:
1
serve
|
Calories:
324
kcal
|
Carbohydrates:
49
g
|
Protein:
4
g
|
Fat:
12
g
|
Sodium:
274
mg
|
Potassium:
75
mg
|
Fiber:
1
g
|
Sugar:
14
g
|
Vitamin C:
2
mg
|
Calcium:
185
mg
|
Iron:
2
mg
This post may contain affiliate links. As an Amazon Associate, I may earn a small commission from qualifying purchases at no additional cost to you.