Baked vegan cheesecake with a creamy tart filling and juicy berries. This recipe can be made gluten-free, refined sugar-free and coconut free!
Why you'll love this cheesecake
Compared to other vegan cheesecake recipes, this recipe uses NO vegan cream cheese. Vegan cream cheese can be difficult to find, expensive and more often than not, it doesn't have the most wholesome ingredients!
This baked cheesecake has the creaminess of a regular cheesecake and, with the right flavorings, is simply delicious! Plus, baked cheesecakes are creamier, richer and less likely to taste like coconut than no-bake cheesecakes.
If you prefer a cheesecake WITH cream cheese, see my vegan strawberry cheesecake, vegan pumpkin cheesecake or vegan mango cheesecake recipe.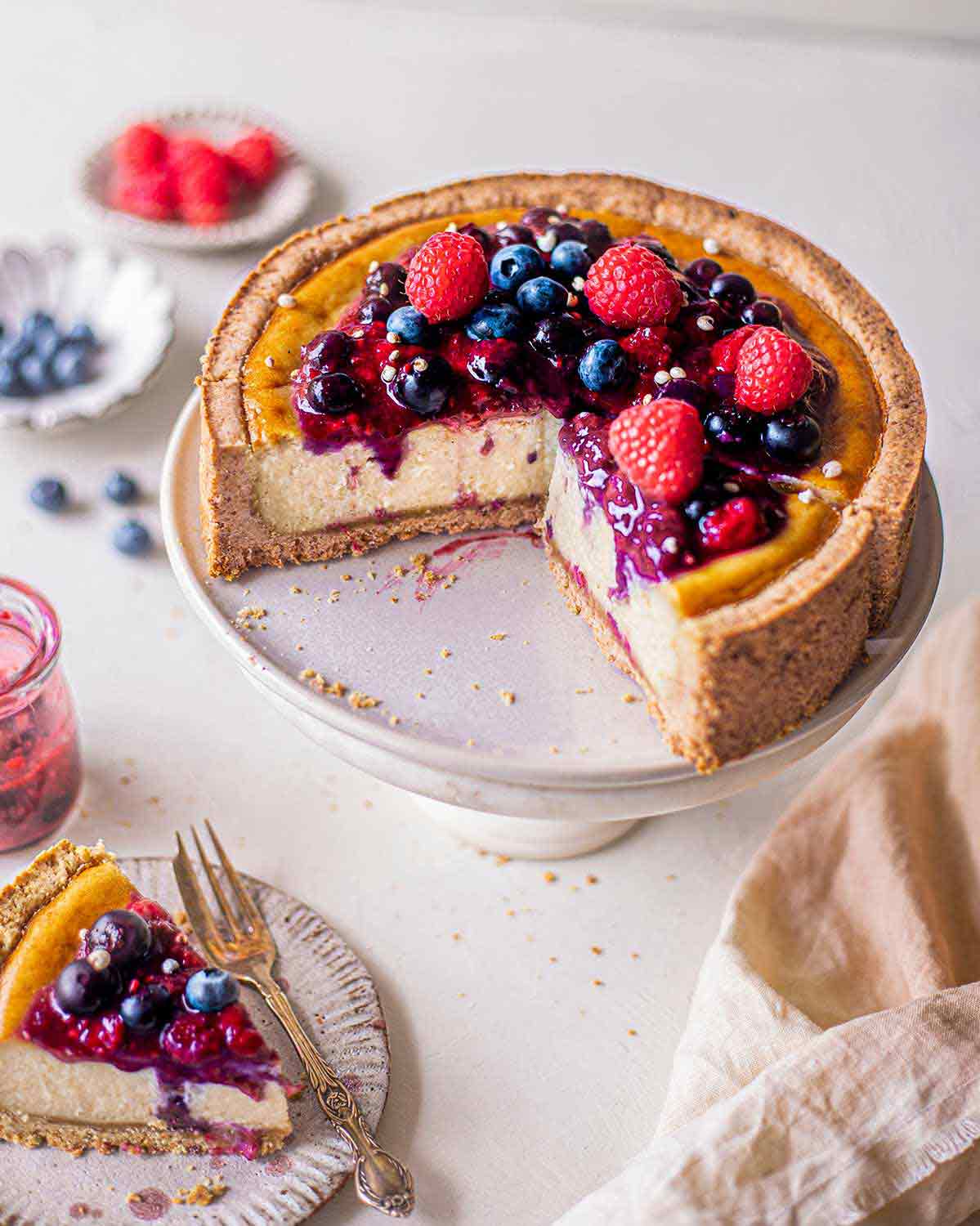 Making the crust
First, you will need to make the crust which is an easy simple mix of:
Flours/flour of your choice. To make this gluten free, I used a gluten free flour blend and almond meal. If you don't need a gluten free cheesecake, just use plain flour.
Refined coconut oil or vegan butter to allow the flour to stick together.
Coconut sugar for a little sweetness.
The easiest way to make the crust is to add all the ingredients to a food processor and pulse until combined.
Then transfer the mixture directly into your cake tin and press it against the bottom and sides to form a crust. Par-bake the crust in your preheated oven for just 15 minutes.
Making the the cheesecake filling
For a creamy and melt-in-your filling, I used the following ingredients:
Cashews to provide the fat and mouth feel similar to conventional cheesecakes. But don't worry - you can barely taste them.
Silken tofu to provide a smooth creaminess that you simply can't get from the highest powered blender. I love using silken tofu in desserts, and I love it even more when people can't taste soy in it, such as in my decadent chocolate mousse tart
Plant-based yogurt such as coconut, almond or soy. I didn't put yogurt in my first vegan baked cheesecake recipe. However, my friend Audrey at Unconventional Baker used coconut yogurt in her baked vegan cheesecake recipe so I gave her recipe ago and was super pleased with the results! So I went back to my original recipe and made a few tweaks.
Plant-based milk because you need some liquids in there somewhere!
Corn flour/starch (not pictured and optional) to thicken the cheesecake filling.
To minimize the cheesecake from tasting like a nutty soy fest, I added a load of natural flavorings such as:
Maple syrup because the fruity sweetness is needed to make the cheesecake taste good. I've tried other sweeteners but maple syrup's flavor complements the cheesecake the best!
Vanilla extract (or vanilla bean powder) because they always remind me of dessert, ice cream and cake!
Lemon juice to provide some acidity to balance out the creaminess of the other ingredients
Salt, an overlooked but essential ingredient to provide depth to the cheesecake!
To make the filling, just add all ingredients to a blender and blend. No fuss and easy! You can find the exact baking instructions in the recipe card at the bottom of this post.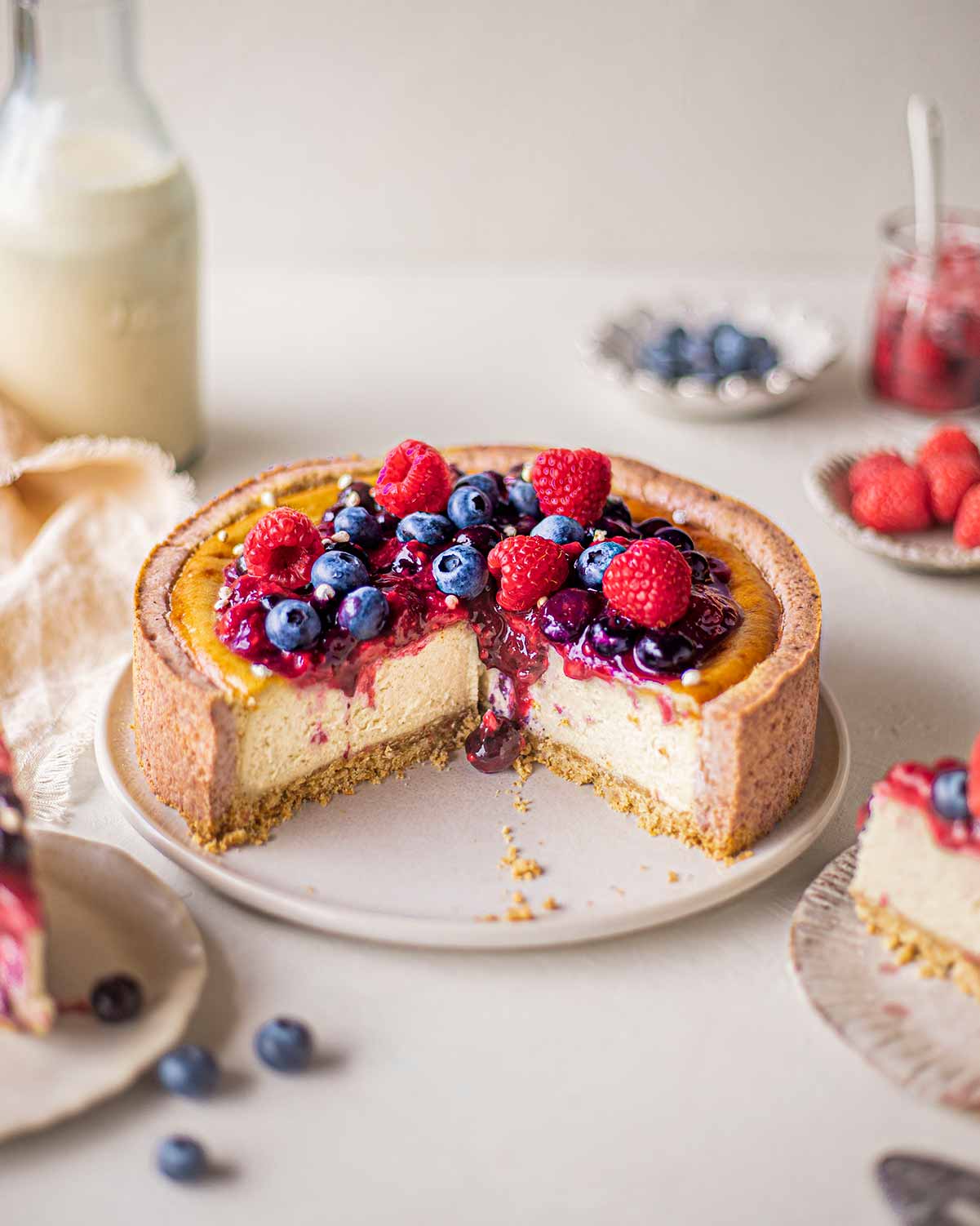 How to serve the cheesecake
The cheesecake is best served with fruit such as raspberries or passionfruit as their tartness cuts through the richness of the cheesecake! I also love how the seeds in the raspberries contrasts with the smooth creaminess of the cake.
In addition to the fruit, you can also top the cake with coconut whipped cream!
Customizing this baked vegan cheesecake
Can I add fruit to the cheesecake filling?
I've tried adding strawberry puree to the filling and unfortunately, it makes the cheesecake a strange brown color. I haven't tested this with other fruits.
Can I use cane sugar instead of the liquid sweetener in the filling?
Yes! The cheesecake consistency will be the same.
Do I need a water bath for this recipe?
No! This cheesecake bakes very well without a clumsy water bath.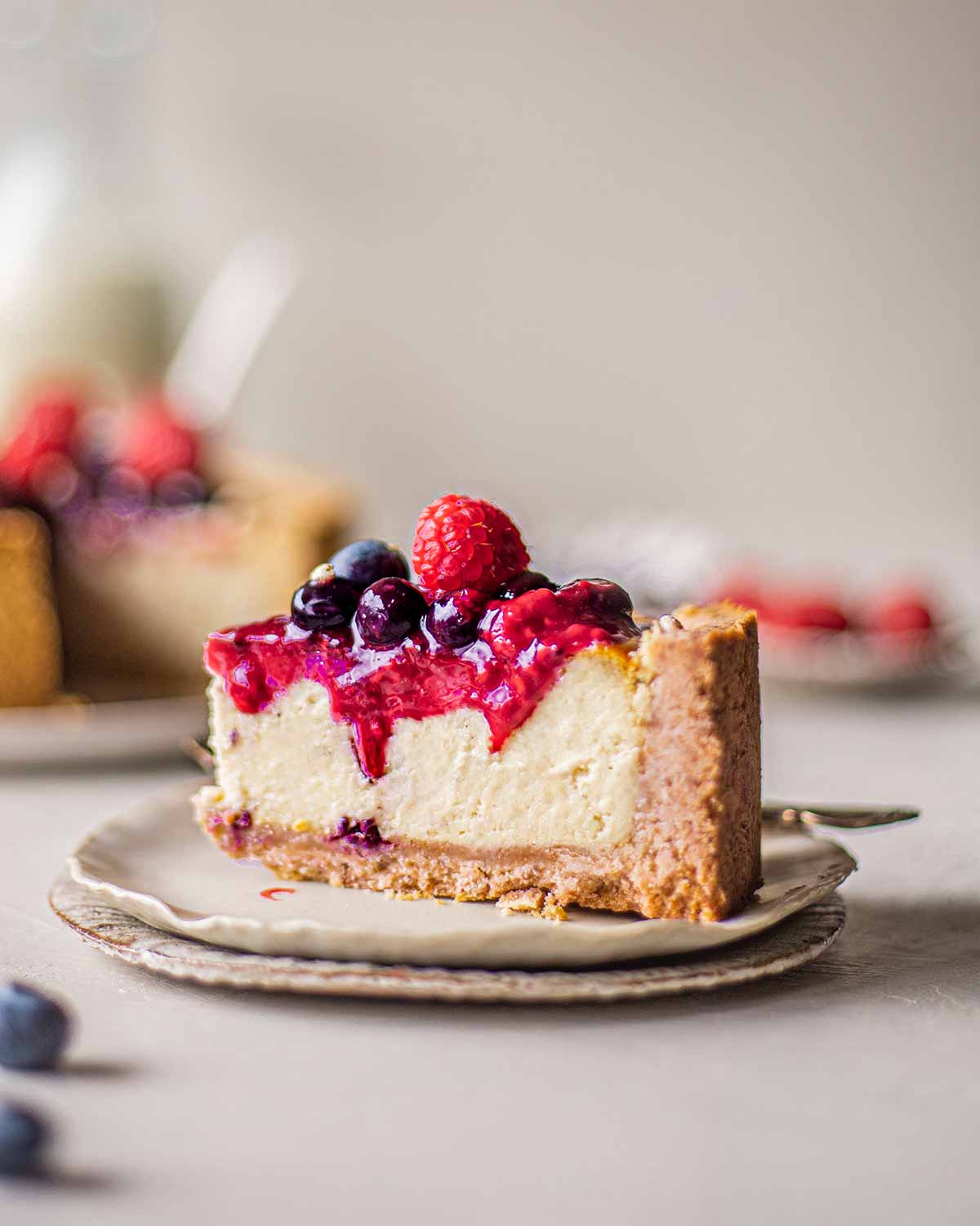 Check out my other vegan cheesecake recipes
Follow Rainbow Nourishments on Instagram, Facebook, and Pinterest, and subscribe via email to receive all of our latest recipes!
Print Recipe
Baked Vegan Cheesecake with Berries
Baked vegan cheesecake with a creamy filling and juicy berries. Includes options for gluten free, refined sugar free and coconut free!
Ingredients
Crust (note 1 for alternatives)
Cheesecake filling
2

cups (260g)

raw cashews,

(note 2)

1

cup (250g)

firm silken tofu

,

also known as 'traditional tofu' (note 3)

½

cup (170g)

maple syrup,

rice malt syrup or any light-coloured sweetener, to taste

½

cup (90g)

dairy-free yogurt

¼

cup (60g)

dairy-free milk

1

tablespoon (20g)

lemon juice,

or apple cider vinegar, to taste (note 4)

1

tablespoon (7g)

corn starch / corn flour,

optional but creates a smoother cheesecake

2

teaspoons

vanilla extract,

or vanilla bean powder, to taste

Pinch of

salt
Instructions
Preheat the oven to 180°C (350°F). Line the bottom and sides of a spring-form or loose-bottom cake tin. I used a tall 8 inch (20 cm) cake tin.
To make the crust:
In a large bowl or food processor, mix all the crust ingredients until well combined. It should stick together when pinched between two fingers. If the mixture is still a bit dry, add a dash of water and mix until the ingredients come together. Firmly press the mixture into the bottom and sides of the lined cake tin so it's about ⅓ inch (8 mm) thick.

Bake the crust for 15 minutes or until slightly golden and it's dry to the touch. Set aside.
To make the filling:
Add all ingredients to a blender and blend until there are no lumps. Taste test the mixture and adjust the level of sweetener, lemon juice and vanilla as desired. Pour the cheesecake filling into the crust.

Tap the cheesecake firmly on the counter a few times to remove any air bubbles.
Baking the cheesecake:
Bake the cheesecake for 45-50 minutes, just before the filling sets. If the crust is browning too quickly, cover the cheesecake with a metal tray. The cheesecake is ready when the filling is no longer liquid and the filling still 'jiggles' in the middle. Allow the cheesecake to cool in the oven with the door ajar for at least 1 hour.

Remove the cheesecake from the oven. Let it come to room temperature, cover the cake pan and chill in the fridge overnight.
The next day, prepare the berry topping:
Add all or most of the berries and rest of the ingredients to a small saucepan and mix until combined. Place the saucepan over medium heat and mix for 5 minutes until thickened. Remove from the heat and allow it to cool.

Remove the cheesecake from its tin. Spoon and spread the berry topping on top and top with additional berries if desired. Cut and serve!

The cheesecake can be kept in an airtight container at room temperature for 1 day or in the fridge for up to 5 days.
Notes
For a graham cracker crust, combine 300g graham cracker crumbs, 40g sugar and 90g of melted vegan butter in a mixing bowl. Press it firmly against the bottom and sides of your cake tin and bake for 10 minutes. If the crust collapses a little from baking, simply press the crust again while it's warm.

If you have a high-powered blender, you don't need to soak the cashews beforehand. If you don't have a high-powered blender, soak the cashews overnight and drain them before blending!

Traditional tofu is halfway between extra silken tofu and extra firm tofu. It often comes in a tub and wobbles a little when you shake it. When you blend it, it will completely break down into a creamy mixture as opposed to firm tofu which will stay in small chunks.

Do not omit the lemon, vanilla and salt as these make the filling taste like a cheesecake.
Nutrition
Serving:
1
serve
|
Calories:
480
kcal
|
Carbohydrates:
54
g
|
Protein:
9
g
|
Fat:
27
g
|
Potassium:
326
mg
|
Fiber:
3
g
|
Sugar:
23
g
|
Calcium:
88
mg
|
Iron:
3
mg
This post was originally published in July 2019 and updated in October 2020.
This post may contain affiliate links. As an Amazon Associate, I may earn a small commission from qualifying purchases at no additional cost to you.