Vegan Pita Pizza topped with lots of vegetables, sweet caramelised onions and a pesto even more vegetables. Quick, easy and gluten-free!
This post is sponsored by BFree Foods
It's the new year which means a new start. For many people, this means reflecting on the the gluttony they enjoyed over the festive season and compensating by eating bland vegetables and salads. Well... I don't want to live on salads this month so I'm sharing my life-long love for vegan pita pizza! They are healthy and yummy!
I love pizza with lots of fresh vegetables and herbs. For this recipe, I used mushrooms, capsicum, fresh tomatoes, zucchini, basil, spinach and caramelised onions. However, you can also top your pizza with thinly sliced eggplant, sun dried tomato, artichokes, olives, pineapples and other ingredients you may already have in your fridge.

Why are pita pockets a great pizza base?
Pita bread is crispy when baked in the oven! When it comes to pizza, I personally prefer thin bases with allll the toppings. There's something so dreamy about a crispy base with soft vegetables and melty cheese.
They are quick and easy to use. Pita bread bakes much quicker than traditional home-made or store-bought pizza bases. Just make sure you cut your toppings thinly so your toppings bake at the same rate as the base. I enjoy making pizza bases from scratch but, let's be honest, they don't always work out and take hours to rise and rest. Pita bread is ready in no time and are pretty fail-proof.
Pita bread is thin and light so are generally easier to digest than thicker pizza bases. I personally don't enjoy eating heavy pizzas then needing a siesta! That means you can have pizza at any time of the day and not feel gluggy and tired. Well that's for me anyway!
My favourite gluten-free bread company BFree Foods recently released their Pita Pockets in Australia which is great for my free-from friends! You can get them from Coles and Woolies in New South Wales in Australia or from stores in Ireland, the USA, UK, Sweden and Norway.
How to caramelise onions
I love adding caramelised onions to my pizzas, sandwiches and meals because they add complexity of flavour and subtle sweetness.
For those who aren't familiar with caramelising onions, here's a step-by-step guide:
Thinly slice your onions. Heat a saucepan over high heat and add onions with a drizzle of olive oil.
Saute the onions until fragrant, slightly translucent or as pictured in #2 above. Turn down the heat to low-medium.
Add 1 teaspoon of coconut sugar and a dash of water. Allow the onions to saute or simmer until they are very soft.
By now, the onions and sugar should've left a sticky residue on the bottom of the pan. Add a drizzle of balsamic vinegar to de-glaze the pan then allow the liquids to evaporate. Set aside.
It takes around 10-15 minutes to caramelise your onions. If your onions start to burn or stick to the pan at any point, add a dash of water to slow down the cooking. After the initial saute, the aim is to cook the onions slowly so they turn soft and caramelly.
This results in beautiful, sticky and slightly sweet caramelised onions.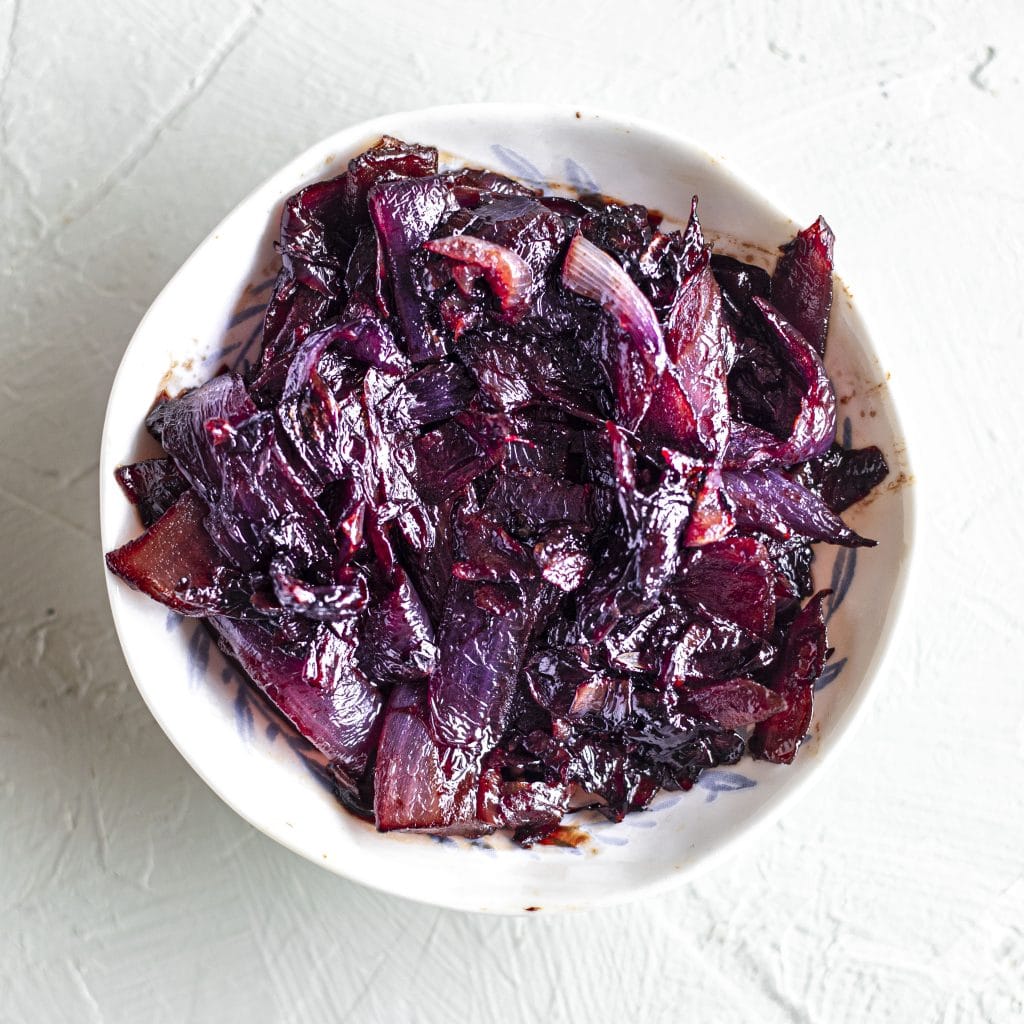 How to make healthy vegan pesto
Vegan pesto isn't much different from regular pesto. Normally, pesto uses parmesan to add depth and punch. With vegan pesto, you can simply omit the cheese (which is what I did) or add nutritional yeast which has a wonderful cheesy taste and smell. For simplicity, I added roasted pine nuts and garlic to the pesto.
I want to increase my intake of vegetables so I sneakily added 1 cup of baby spinach leaves to the pesto. The spinach dilutes the basil flavour yet you cannot taste the 'greenness' of the spinach. This makes the pesto excellent for parents who want to increase their kids' veggie intake!
You can also add lemon juice, pepper or other spices to the pesto to suit your tastes.
It takes no time to make these vegan pita pizza. However, if you have more time on your hands, here are some of my other recipes:
Print Recipe
Vegan Pita Pizza with caramelised onions and pesto
Vegan Pita Pizza topped with lots of vegetables, sweet caramelised onions and a pesto even more vegetables. Quick, easy and gluten-free!
Ingredients
Caramelised Onions
1

red onion

,

sliced thinly

Dash of

olive oil

1

tsp

coconut sugar,

or any other granulated sugar

Drizzle of

balsamic vinegar
Sneaky Pesto
¼

cup

pine nuts

,

roasted or sauteed

3

cloves

garlic

,

raw or sauteed

1

cup

baby spinach

,

loosely packed

1

cup

basil leaves

,

loosely packed

3

tbsp

olive oil

Generous pinch of

any good-quality salt
Pita Pizzas
3

tbsp

tomato pizza sauce

1

small

capsicum

,

core removed and diced

½

cup

mushrooms

,

sliced thinly

½

cup

cherry tomatoes

,

halved

½

cup

vegan cheese

,

chopped or shredded
Instructions
To make the onions: Add the onion and olive oil to a medium-size saucepan over high heat and sauté until fragrant. Turn down the heat to low-medium. Add the coconut sugar and a dash of water. Sauté for 10 minutes or until the onions are very soft. Add the balsamic vinegar to de-glaze the pan and allow the liquids to evaporate. Set aside.

Preheat the oven to 180°C (355°F).

To make the pesto: Add all ingredients to a food processor and process until it forms a paste. Set aside.

Place the pita pockets on a lined baking tray. Spread the pizza sauce on each pita leaving a 1cm edge. Scatter the capsicum, mushrooms, tomatoes, vegan cheese and caramelised onions on top.

Bake the pita pockets in the oven for 10-12 minutes or until the vegetables are cooked.

Dollop the pesto on the baked pita pizzas. Enjoy immediately!
Please leave a comment below if you made this recipe, have any questions or thoughts! Your comment will help other readers and Rainbow Nourishments.