Epic homemade vegan ice cream cake combining an egg free chocolate cake and layers of store bought ice cream.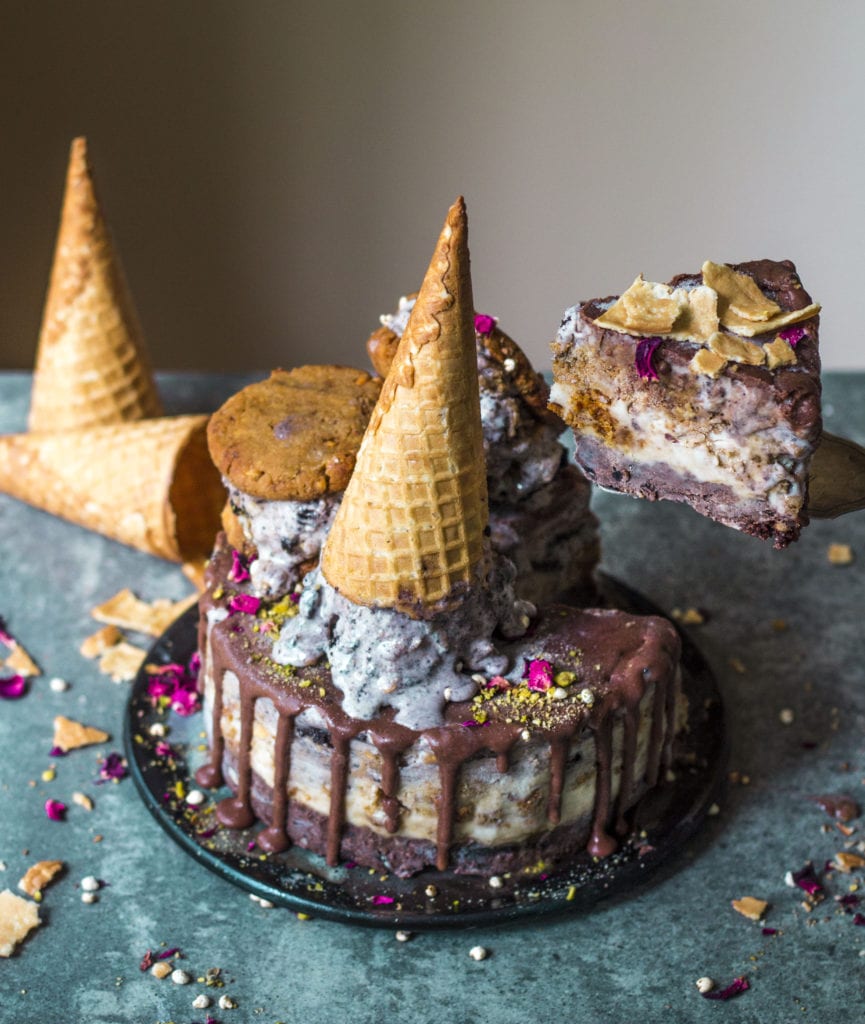 So, in preparation for my big 30th birthday, I'm testing out more cake styles and ways to decorate cakes (that's a fair enough reason, cough excuse, right?!). I would travel far for good vegan ice cream so I thought I'd treat myself with a decadent chocolate ice cream cake!
I've tried making my own ice cream at home but, I must admit, if you don't have an ice cream maker, the taste and texture doesn't beat store-bought ice cream. Store-bought ice creams are more creamy rather than icy and you can usually eat them straight out of the freezer. Plus, if you're going to do kind to yourself for your birthday, you might as well indulge is your favourite food, right?!
If you can't tell by my Instagram or Facebook, I love OTT cakes with a lot of layers and toppings... obviously my own birthday cake will take this to a whole new level. I decorated it with ice cream cones and easy-peasy peanut butter cookies which I turned into ice cream sandwiches.
So I guess this cake is just like an elaborate sundae... with allllll of the toppings but set in a cake mould. Sounds good, right?!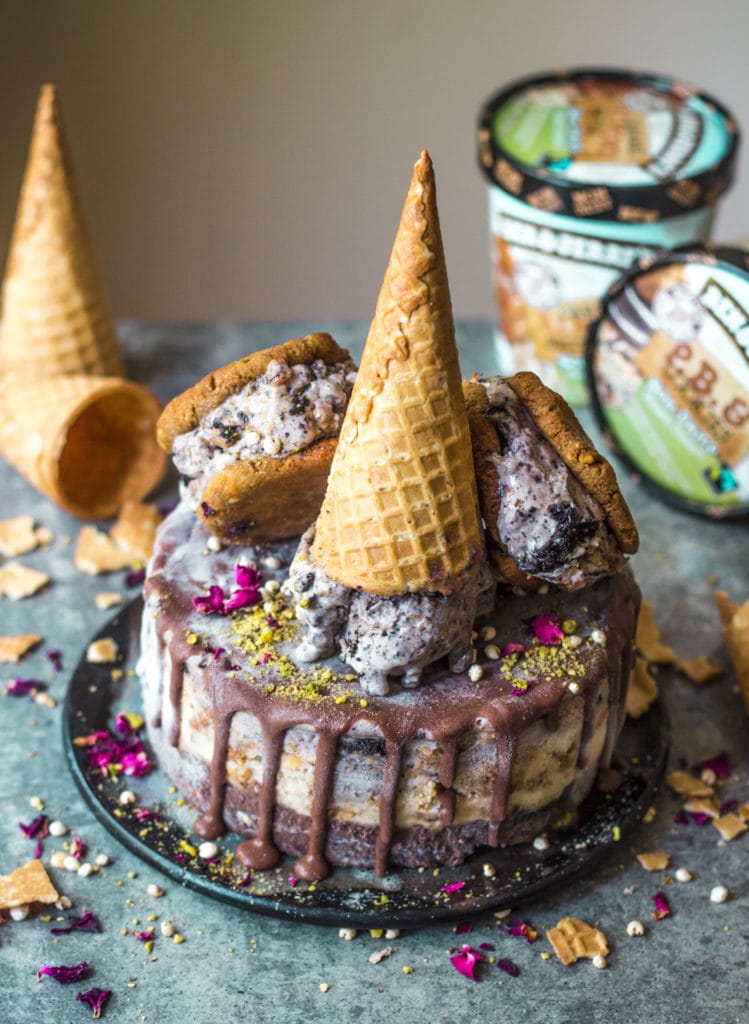 If you're in Australia, did you hear that Ben & Jerry's released a dairy free range and it is now officially available in Australia? I follow vegan groups on Facebook and it was big news when they released a non-dairy ice cream. I used their dairy free ice cream for this cake, which was spot on. Oh so creamy and it hit the spot. What I love about their ice cream is the amount of add-ins including peanut butter, almond brittle and crunchy little bits. Not to mention that it's fair trade too!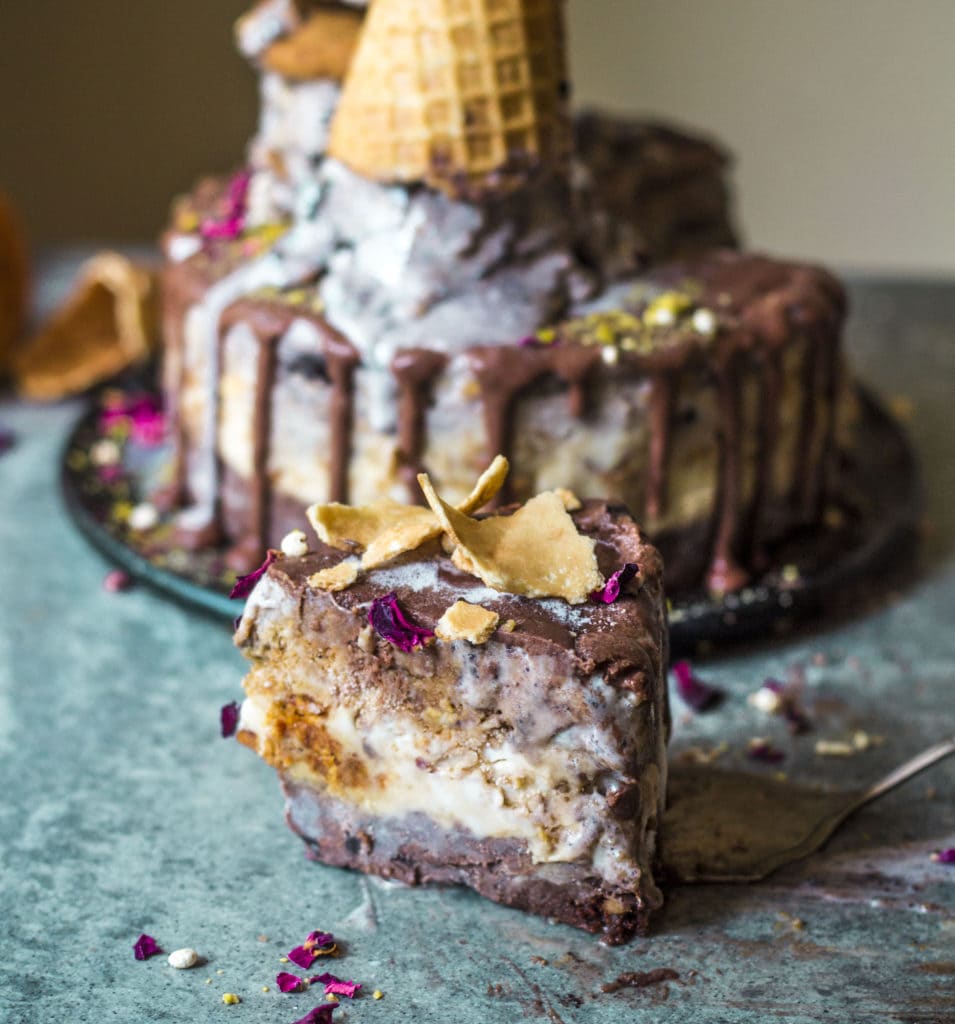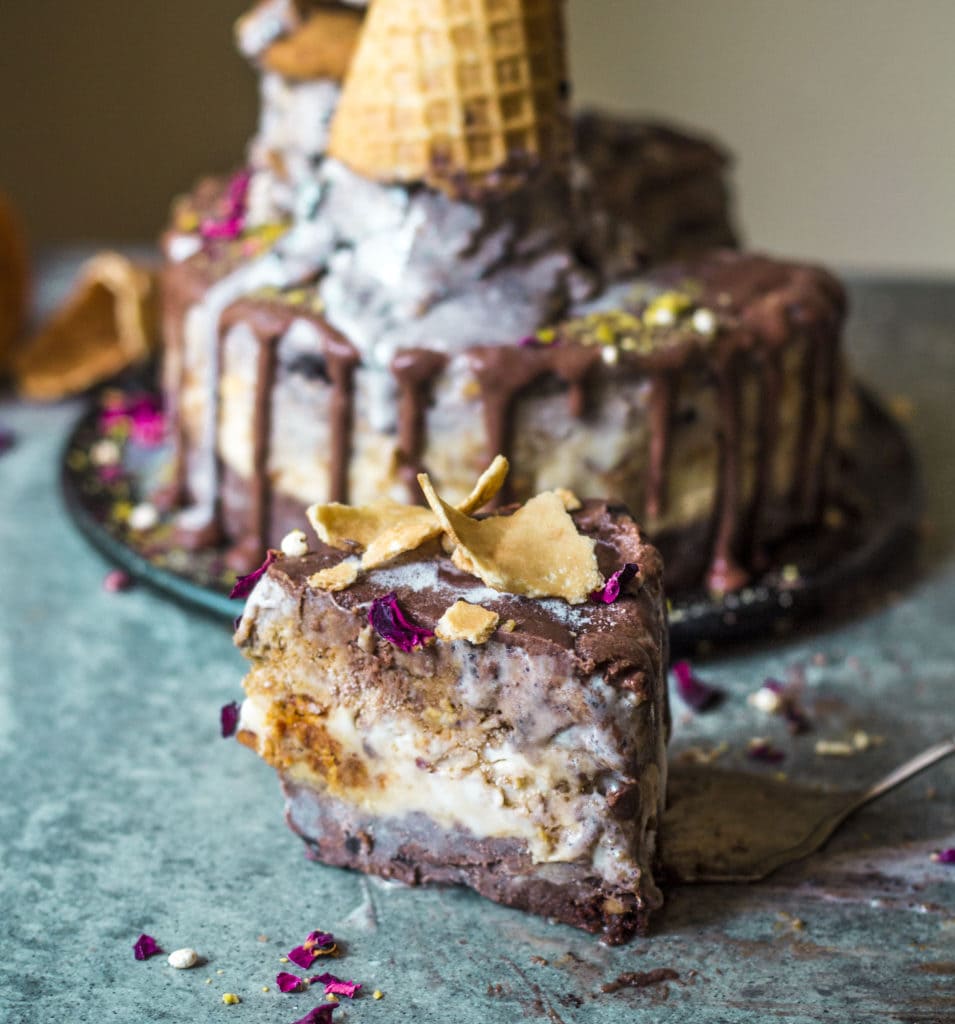 It goes without saying but feel free to go as crazy or minimal with the toppings as you like!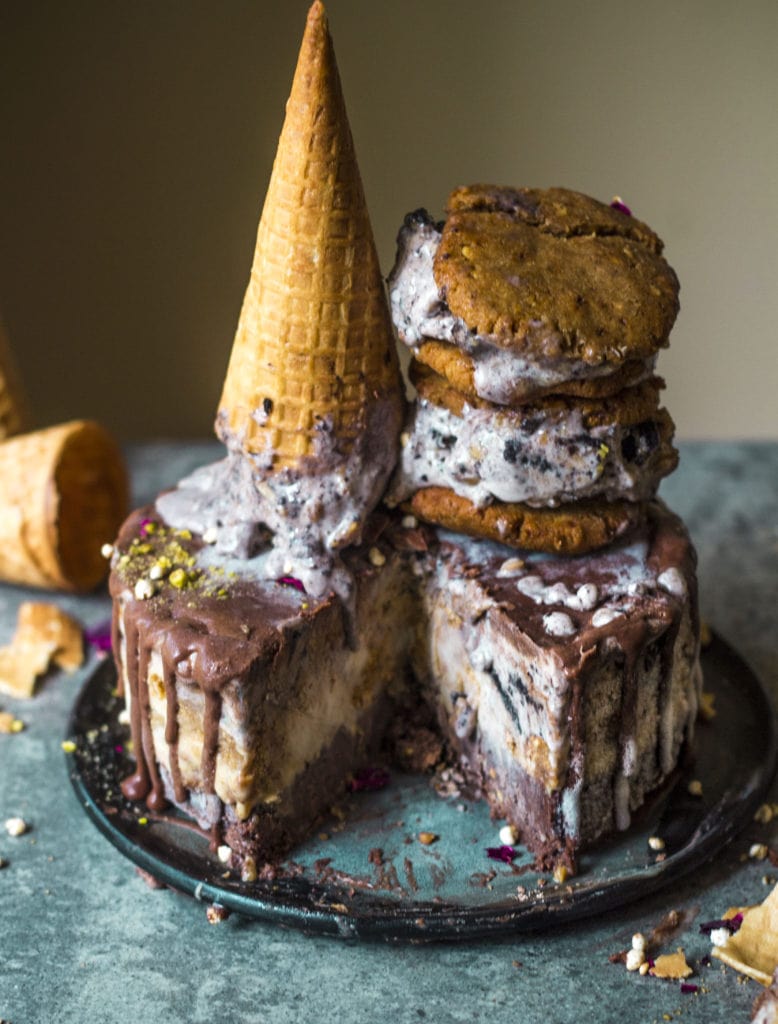 See my other vegan ice cream recipes
Print Recipe
Ultimate chocolate vegan ice cream cake
Epic homemade vegan ice cream cake combining an egg free chocolate cake and layers of store bought ice cream.
Ingredients
Chocolate cake base (1 cup of any chocolate cake or make your own as per below)
Other cake layers
To decorate
½

cup

vegan chocolate

Ice cream cones
Instructions
Preheat oven to 180C

For the chocolate cake base, add all ingredients to a small bowl and mix until combined. Pour into a small lined tray then bake for 7-10 minutes or until cooked. Remove from oven and cool.

For the peanut butter cookies, prepare and bake according to recipe. Remove from oven and cool.

For the ice cream cake, crumble the chocolate cake into a bowl and add ½ cup peanut butter ice cream. Mix until just combined and press into a lined 15cm cake tin. Put aside in the freezer to firm up.

For the next layer, soften the almond ice cream at room temperature. Spread over first layer, crumble half of the peanut butter cookies on the surface and gently press in. Return the cake tin to the freezer.

For the final layer, soften the remaining peanut butter ice cream at room temperature. Scoop into cake tin and return to the freezer.

When the top layer has completely frozen, remove the cake from the freezer then remove from the tin. Gently melt the chocolate over a double boiler and drizzle over cake.

To decorate, use remaining ice cream, peanut butter cookies and cones to make ice cream sandwiches and/or ice cream cones. If the cake begins to melt, return it to the freezer until solid. Place decorations on cake and enjoy!
If you try this recipe, I would love to hear about it! Comment below or, if you post it on social media, tag @rainbownourishments and #rainbownourishments!
This post was sponsored by Ben & Jerry's. However, as always, all opinions expressed in this post are 100% my own. Thank you for supporting the brands that allow Rainbow Nourishments to be sustainable.