These BBQ jackfruit tacos are vegan, uses common supermarket ingredients and addictive. I've also included an easy homemade tortilla recipe!
This is a zero-waste vegan recipe!
The non-profit organisation 1 million women challenged me to develop a zero-waste recipe (not sponsored). Since these jackfruit tacos were soo delicious, I couldn't help but share it here. Even my picky non-vegan partner liked them!
This recipe is zero-waste (or minimal waste, let's be realistic) because it uses:
Coriander stems AND leaves
A whole onion, can of jackfruit, lime and punnet of tomatoes.
Cloves of garlic (not the whole bunch but we can use garlic in HEAPS of other recipes like my easy vegan ramen)
BBQ sauce (same situation as the garlic)
Salad greens (from my garden). You can use any salad greens or whatever vegetables you have in your fridge.
Dried herbs rather than fresh (because let's face it, it can be hard to use up a WHOLE bunch of herbs!)
A whole avocado (did you know you can use avocado skins for dying fabrics a beautiful pink?)
Homemade tortillas so we can avoid store-bought tortillas which are often covered in plastic
How to make tortillas for the jackfruit tacos?
Don't be initimidated by making your own tortillas. They are actually really easy once you have the hang of it! The most time consuming step is rolling the tacos but making the dough and cooking them is quick and easy!
You only need 3 ingredients + water, including:
Plain, wholemeal or spelt flour
Olive oil
Salt
Simply mix all the ingredients in a bowl until it forms a cohesive dough. Add a little more flour if the dough is sticky or a little more water if it's dry and cracking.
If you have a tortilla press, perfect! If you don't, like me, it's easy.
Divide the dough into mini balls (about 20g each or 1 heaped tablespoon each). Very liberally dust a surface with flour and roll out each one to make a mini circle. Make sure you dust the surface with LOTS of flour otherwise it will stick and it'll be difficult... let's not make life harder for ourselves, right?!
To cook the tortillas, simply place it on a hot DRY frypan. They are like mini pancakes at this stage. When they puff up or turn golden brown underneath, flip!
Try to fit as many tortillas as possible on one pan too :).
Set them aside in a stack in an airtight container. Their closeness prevents each piece from drying out :).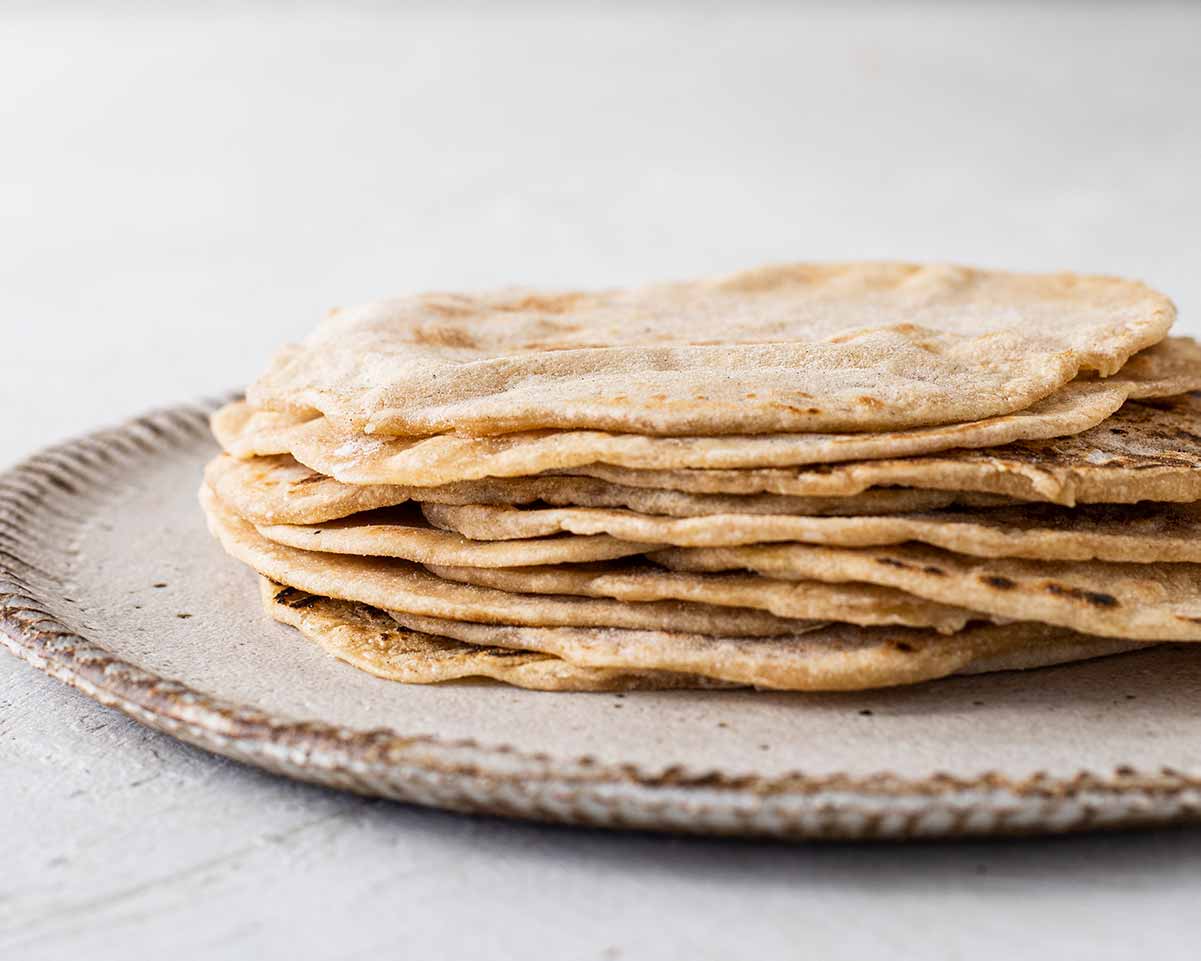 How to make vegan pulled jackfruit?
First, cut and prepare all your veggies! The jackfruit needs to be cut into smaller chunks, along their grain. It doesn't have to be perfect, it will make your life easier!
Ok then saute the onion and garlic until they are tender. Add all the dried herbs and coriander STEMS then saute them too. If you don't think you're going to use up all the coriander leaves, throw into the saucepan the portion of leaves you won't use!
Next, add the jackfruit, BBQ sauce and sweetener of choice. Saute for a little then add water or vegetable stock to slowly cook the jackfruit.
After about 15-20 minutes, the jackfruit will soften and break down. If you still have chunks of jackfruit, smash it with the back of a spatula or use a clean pair of kitchen scissors and cut the jackfruit into pieces.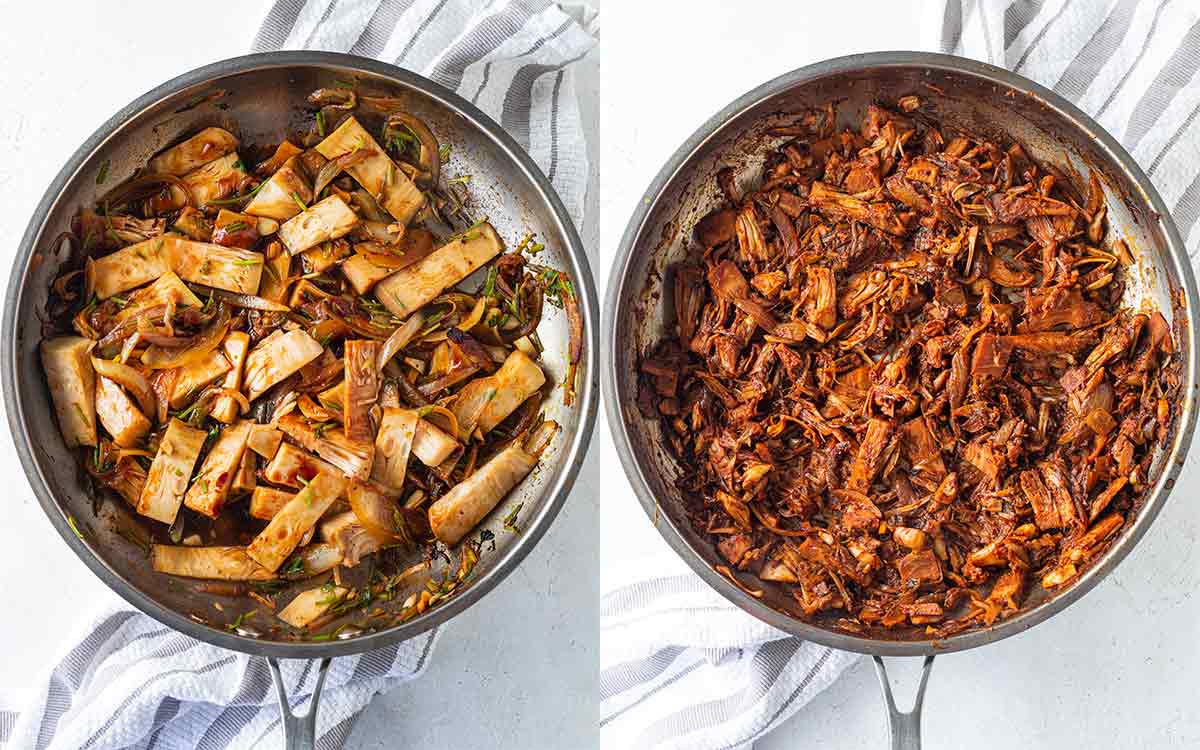 Assembling the bbq jackfruit tacos
Now, this is the easiest part! Assemble the taco exactly how you like. These tacos will also go well with other vegetables such as:
Carrot
Red Cabbage
Salad greens
Corn kernels
Or enjoy my other easy savoury recipes:
Print Recipe
BBQ Jackfruit Tacos with homemade tortillas
Ingredients
Taco tortillas
2

cups

plain, wholemeal or spelt flour

,

plus extra for rolling

¾

cup

water

,

room temperature

3

tablespoons

olive oil

Generous pinch of salt
Fillings
1-2

cups

coriander (about 1 bunch )

,

leaves and stems

1

tablespoon

olive oil

,

or sub with water

1

brown onion

,

sliced thinly

3

garlic cloves

,

crushed

1

tablespoon

ground cumin

1

tablespoon

smoked paprika

1 x

550g

can jackfruit in brine NOT juice (280g jackfruit without brine)

,

chopped

¼

cup

barbeque sauce

1

tablespoon

coconut sugar,

or sweetener of choice

½

cup

water or vegetable stock
To serve
1

large avocado

,

sliced

1

cup

tomatoes (about 1 punnet)

,

chopped

1-2

cups

salad greens
Instructions
To make the tacos:
Add all ingredients to a bowl and mix until combined. The dough should be soft and supple but not sticky.

Divide the dough into balls. Each should be about the size of a heaped tablespoon (about 20g each).

Liberally dust a clean surface and roll out each ball into a small circle. Add more flour if the tacos are sticking to the surface or to each other.

Heat up a large frying pan. Place 2-3 tacos on the dry pan. Allow the bottom to cook for 1 minute or until slightly goldenbrown. Flip and cook for another minute or until slightly golden brown. Repeat for all the tacos. Set aside the tacos in an airtight container until ready touse.
To cook the jackfruit filling*:
Separate the coriander leaves from the stems. Set aside the leaves for garnishing. Finely chop the coriander stems. Setaside.

Add the oil or water to a large frypan over high heat. Add the onion and sauté for 2 minutes or until softened. Add the garlic and sauté for 1 minute or until fragrant. Add all the dried herbs and coriander stems and sauté for 1 minute or until fragrant.

Add the jackfruit, bbq sauce and sugar to the frypan. Reduce the heat to medium and add the water or vegetable stock. Simmerfor about 20 minutes or until the jackfruit is soft. You may need to break up the chunks of jackfruit even more with a spatula.
To serve:
Fill a taco with the bbq jackfruit, avocado, tomatoes, salad greens and top with remaining coriander. Enjoy!
Notes
To save time, cook the jackfruit at the same time as making the tacos.
Please leave a comment below if you made this recipe, have any questions or thoughts! Your comment will help other readers and Rainbow Nourishments.