Wholesome Asian greens bowl with marinated tempeh drizzled with tahini!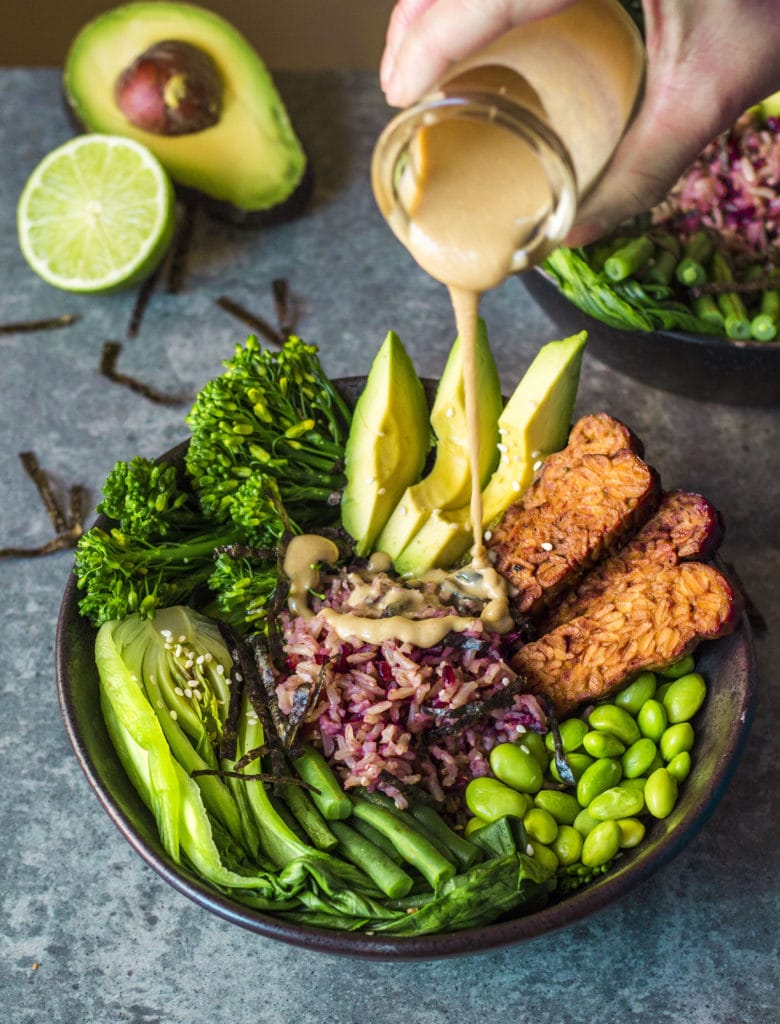 I test out A LOT of sweets in my kitchen but sometimes I just want a real savoury meal with lots of greens! And I definitely want a proper savoury meal to fill me up so I don't snack aimlessly on cake haha.
This nourish bowl will definitely fill you up. It has satiating carbs from the brown/red rice, good fats from the avocado and protein from the tempeh.
I marinated the tempeh with coconut aminos and baked it in the oven for ease. If I can bake something rather than saute it, I'm 100% there! I paired it with blanched veggies, drizzled it with straight tahini and created my perfect meal!
I eat a very simplified version of this on a day-to-day basis... that means, I'll just have 1-2 greens, some sort of plant-based protein and carbs/rice if I'm lucky. Feel free to mix and match vegetables with this recipe!
I hope you enjoy this simple recipe!
Other healthy vegan lunch ideas
Print Recipe
Asian greens and tempeh nourish bowl
Wholesome Asian greens bowl with marinated tempeh drizzled with tahini!
Ingredients
½

cup

uncooked brown rice

,

plus 2 tablespoons of red rice for colour if desired

400

g

tempeh

¼

cup

soy sauce, tamari or coconut aminos

1

bunch of broccolini

½

cup

green beans

1

boy choy

½

cup

edamame beans

½

avocado

,

sliced

¼-1/2

cup

tahini
Instructions
Preheat the oven to 180C.

Cook brown rice according to packet instructions.

Slice up the tempeh and dip in soy sauce or coconut aminos. Arrange on a lined baking tray and pour over remaining sauce. Bake in oven for 15 minutes or until crisp.

Meanwhile, chop and steam the broccolini, green beans, bok choy and edamame as desired.

Arrange rice, tempeh and greens in bowls, drizzle with tahini and enjoy immediately. Alternatively, store leftovers in an airtight container in the fridge for up to 3 days.
Please leave a comment below if you made this recipe, have any questions or thoughts! Your comment will help other readers and Rainbow Nourishments.