This vegan red velvet cake is soft, fluffy and moist! It comes together in one bowl and is easy to make using common pantry ingredients. This recipe has been adapted from my popular vegan red velvet cupcakes.
Ingredients you'll need
The full list of ingredient quantities and instructions are in the gray recipe card at the bottom of this post.
Notes about the ingredients
Vegan-friendly red food coloring. Make sure you avoid food dye that contains carmine which is made of beetles! Some vegan-friendly brands include AmeriColor, Wilton, and Queen Fine Foods (Australia). Beetroot powder can work but the results are inconsistent and depend on the brand and age of your powder. Some companies also sell vegan-friendly natural red dye.
Dairy-free milk. I prefer using soy milk as it's usually higher in protein which creates a more tender cake. However, any milk will work such as oat milk or almond milk.
Sugar doesn't only add sweetness but makes the cake fluffier and moister!
Cocoa powder for a hint of chocolate flavor. It also helps break down the flour making soft and velvety cake.
Apple cider vinegar reacts with the non-dairy milk to make vegan buttermilk. It makes the cake more tender and adds depth of flavor. Lemon juice or white vinegar will also work.
Making the cake batter
It's SO easy to make this red velvet cake! In ONE bowl, mix the dry ingredients and then the wet ingredients until combined.
Here are some expert tips for making the best vegan red velvet cake:
If your cocoa powder is lumpy, sift it beforehand!
I recommend adding more red food coloring than you think you'll need. The red color will fade and darken in the oven!
Avoid overmixing your cake batter. Some lumps in your batter are fine, as long as they aren't lumps of dry flour. If you use a hand mixer or stand mixer, I suggest mixing the batter on medium speed to prevent you from overmixing.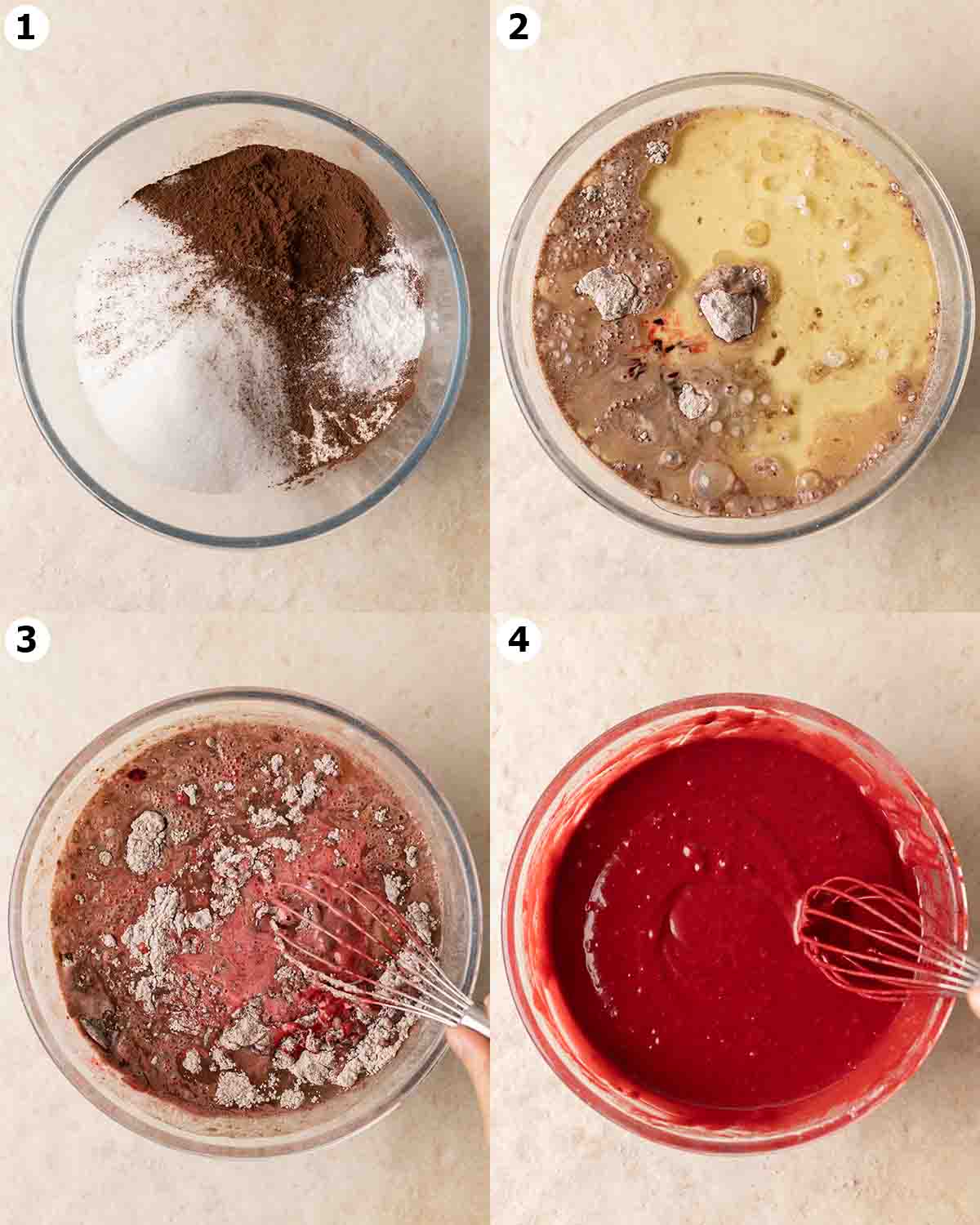 Tips for baking the cake
Baking this cake is very straightforward! However, I have some easy tips if you'd like your cake to look extra professional :).
For the most even cake layers, I suggest using a kitchen scale or measuring cups to evenly divide the cake batter. If you have exactly the same amount of batter in each cake pan, they will bake in the same amount of time and look better when the cake is assembled!
For extra flat cake layers, I recommend using cake strips! Cake strips cool the outside of cake pans so cakes bake more evenly and don't dome as much. They're always ideal for layer cakes!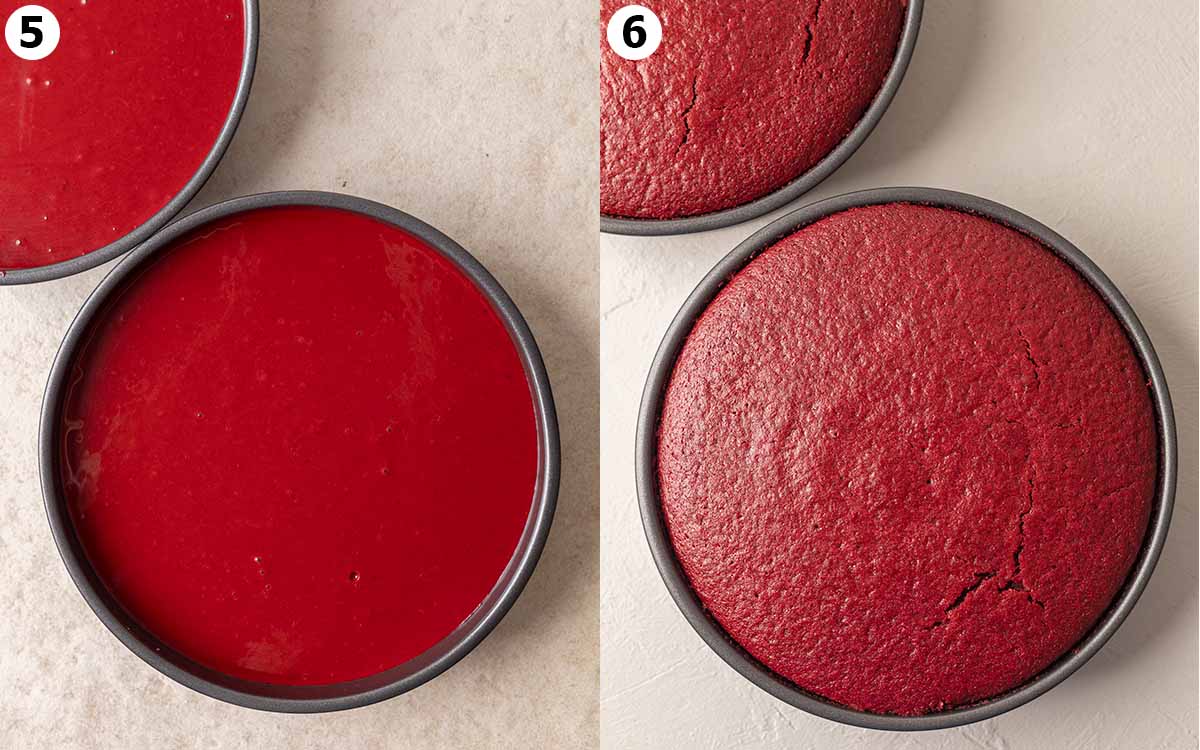 Cream cheese frosting and alternatives
This red velvet cake is perfectly paired with a tangy vegan cream cheese frosting! Here are my top tips for making cream cheese frosting:
Use a reliable brand of vegan cream cheese for example, Toffuti. A select few brands tend to split when you whip them such as Sheese.
Cream cheese frosting tends to soften quickly at room temperature. So, it's super important that your cake is not warm at all when you frost it. If your frosting softens while you decorate the cake, pop your cake in your fridge or freezer for 30 minutes.
If you prefer to not make a cream cheese frosting, I recommend frosting the cake with:
Vegan lemon buttercream from my lemon cake recipe. The lemon makes the buttercream taste similar to cream cheese!
Chocolate buttercream frosting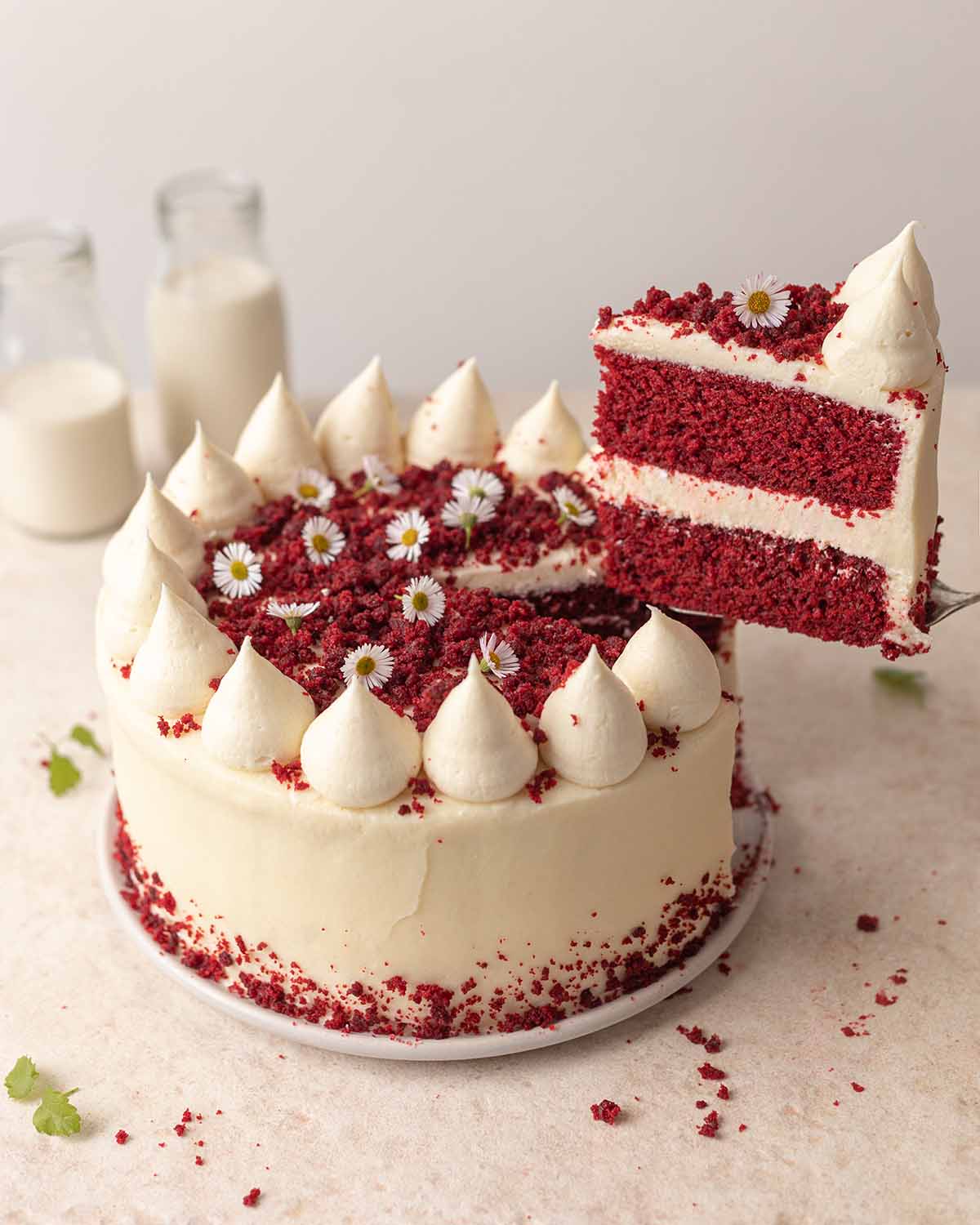 How to store vegan red velvet cake
If you'd like to make this cake in advance, store the cake layers separately from the frosting. The cakes are best stored covered in plastic wrap or an airtight container.
If you live in a warm climate, it's best to store leftover cake in an airtight container in the fridge. Cream cheese frosting tends to soften when it's warm! 1-2 hours before serving, let the cake come to room temperature and it'll be perfect for serving.
If you live in a cooler climate, store the cake at room temperature for up to 1 day.
Customizing this red velvet cake recipe
Can I make this cake gluten-free or refined sugar-free?
For a gluten-free red velvet cake, check out the notes of the recipe box at the bottom of the page.

To make the cake refined sugar-free, you can use brown sugar or coconut sugar but it will make the cake a dark red-brown color.
Can I bake the cake in a different cake pan?
This recipe will also work in:
- Two 7-inch and 9-inch cake pans. If using 7-inch pans, they'll need to be at least 2 inches tall otherwise they will overflow. You will also need to adjust the baking time.
- One 9-inch square cake pan
- One 10-inch round cake pan
- One 9x13 inch rectangle pan for a sheet cake

Alternatively, check out my vegan red velvet cupcakes recipe.
More easy vegan cake recipes
Follow Rainbow Nourishments on Instagram, Facebook, TikTok and Pinterest, and subscribe via email to receive all of our latest recipes!
Print Recipe
Vegan Red Velvet Cake
This vegan red velvet cake is soft, fluffy and moist! It comes together in one bowl and is easy to make using common pantry ingredients.
Ingredients
Vegan Cream Cheese Frosting (note 3 for alternatives)
Instructions
Preheat the oven to 180°C (350°F). Line 2 x 8-inch (20 cm) round cake pans with parchment paper.
Make the cake:
Add all the dry ingredients to a large mixing bowl and whisk until there are no lumps. Add all the wet ingredients and mix until just combined. If desired, add more food coloring and gently mix until the batter is your desired color.

Evenly divide the cake between your two cake pans.

Bake the cakes for 30-35 minutes. The cakes are ready when you insert a toothpick in their center and it comes out clean (a few crumbs are fine).

Cool the cakes in their pans for 15 minutes then transfer them to a wire rack. Cool completely.
Make the frosting:
Add the butter to a large bowl or stand mixer and beat until light fluffy. Add the vegan cream cheese and beat until just combined and there are no lumps. Add the sugar and vanilla and beat until just combined. If you overmix the frosting, it will become loose and may not hold up. Add more powdered sugar for a firmer frosting. Chill until needed.

If your cakes are domed on top, use a large serrated knife to slice a thin layer off the tops to create a flat surface. Spread or pipe around ¾ cup of frosting on the cake and place the remaining cake on top. If you have time, I recommend crumb-coating the cake by spreading a thin layer of frosting on the sides and top to 'trap' in the crumbs. Finally, coat the cake with the remaining frosting.

Keep the cake in an airtight container in the fridge until serving. Allow it to come to room temperature for 30 minutes to 1 hour before serving.

Store leftover cake in a container in the fridge for up to 3 days or in the freezer for up to 1 month. Allow the cake to come to room temperature before serving.
Notes
To make a gluten-free red velvet cake, replace the flour with 1 ¾ cup (280g) gluten-free all-purpose flour and 1 ⅓ cup (135g) almond flour. Some 1:1 gluten-free flour blends will work but I don't recommend using Bob Red Mills 1:1 flour by itself because it makes this cake gummy.
All brands of red food dye vary in color and intensity so you may need to adjust accordingly. If you use liquid food coloring (not gel), you'll need around 1-2 tablespoons. You can also color the cake with 3 tablespoons of beetroot powder. Some brands of beetroot powder and older powder tend to turn brown when baked, so make sure you use a reliable brand. If using beet powder, add it with the dry ingredients.
If you don't have vegan cream cheese, I recommend making a classic buttercream with a hint of lemon. It's also more stable than cream cheese frosting! Use the lemon buttercream recipe from my lemon cake post and adjust the amount of lemon juice to taste. The lemon flavor mimics the tangy flavor of cream cheese.
Nutrition
Serving:
1
slice without frosting
|
Calories:
260
kcal
|
Carbohydrates:
38
g
|
Protein:
3
g
|
Fat:
11
g
|
Sodium:
198
mg
|
Potassium:
63
mg
|
Fiber:
2
g
|
Sugar:
19
g
|
Calcium:
84
mg
|
Iron:
2
mg
This post may contain affiliate links. As an Amazon Associate, I may earn a small commission from qualifying purchases at no additional cost to you.