Vegan Caramel Tart made with no gluten, no refined sugar and no dates! The tart base is cookie dough studded with chocolate chips and the tart is topped with an easy chocolate ganache, pretzels and flaky salt! YUM! You don't need to bake the tart so there's a quicker route to your stomach.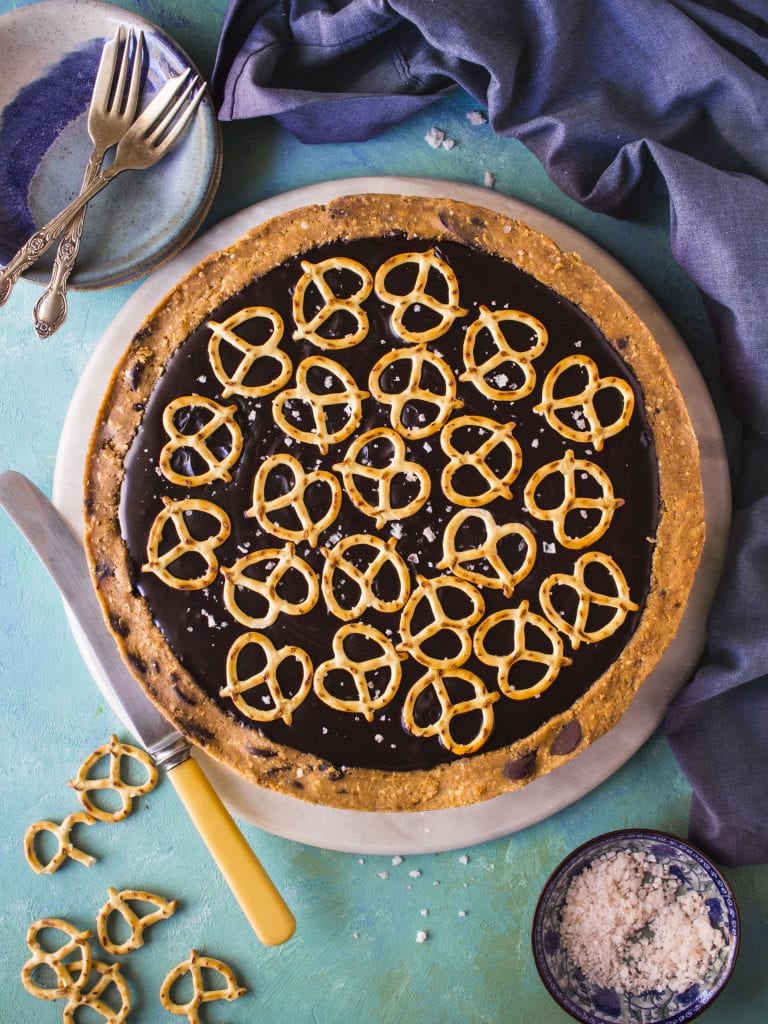 Vegan cookie dough base
Want to make cookie dough with no eggs and no butter? No problem! This cookie dough is packed with wholesome ingredients including:
rolled oats to give it substance and because carbs are life
chickpeas or butter beans to make the cookie dough fudgy and creamy... and you can eat more of it!
nut or seed butter to give richness and essential fats to the base
rapadura sugar for some natural caramelly sweetness
coconut oil which helps the dough firm up and set in the fridge
I love adapting this mixture to make cookie dough bliss balls! I pop oats, chickpeas, cashew butter and some sort of sweetener in a food processor, whizz it and roll them into balls. Seriously addictive! I love this combo so much that I adapted them into cookie dough bars for my cookbook.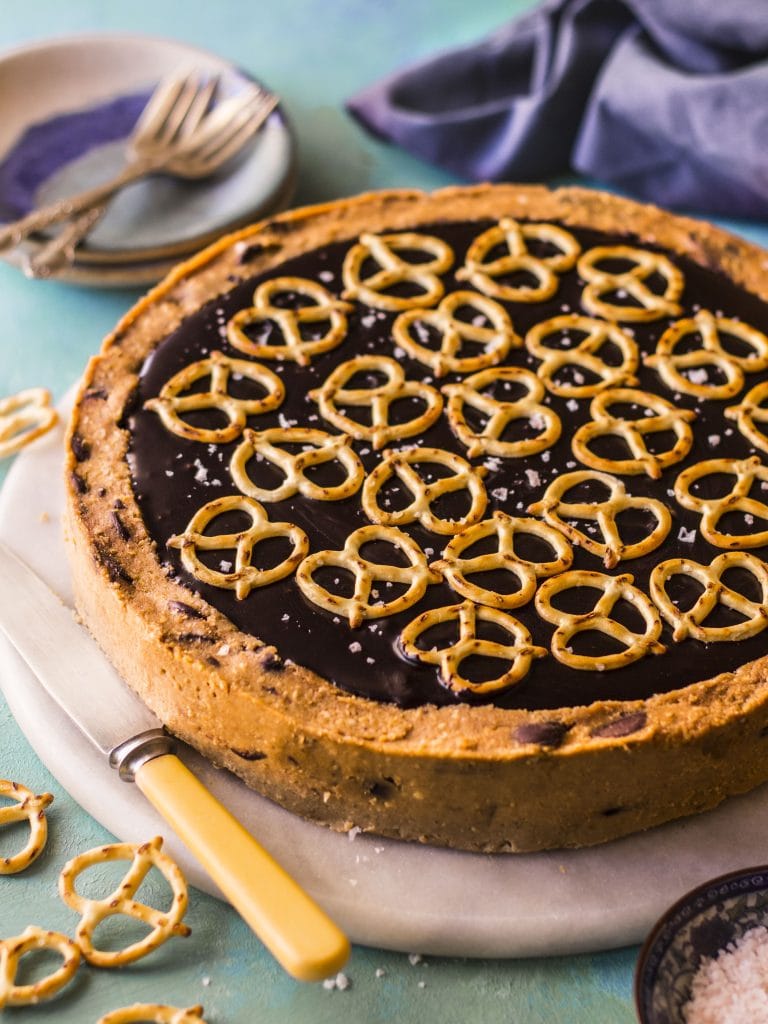 Vegan Date-free Caramel
There are SO many vegan date-based caramel recipes online. However, sometimes I just want a classic caramel made the traditional way using granulated sugar! Since rapadura sugar has such a beautiful and deep caramel taste, I used that to make this caramel.
To make the caramel, I combined rapadura sugar with thick canned coconut cream. Then I heated it to melt the sugar and evaporate some of the cream. I added coconut oil which will help the caramel set in the tart. To give the caramel a touch of butterscotch, I then added some plant-based butter!
How to make vegan chocolate ganache
Conventional ganache is made with chocolate and dairy cream. To make a vegan chocolate ganache, I basically used dark dairy-free chocolate and combined it with thick coconut cream! I melted them in a pot over low heat and mixed it until combined and glossy.
If you don't like coconut, you can just add melted chocolate on the tart. However, it will break into pieces when you slice into the tart.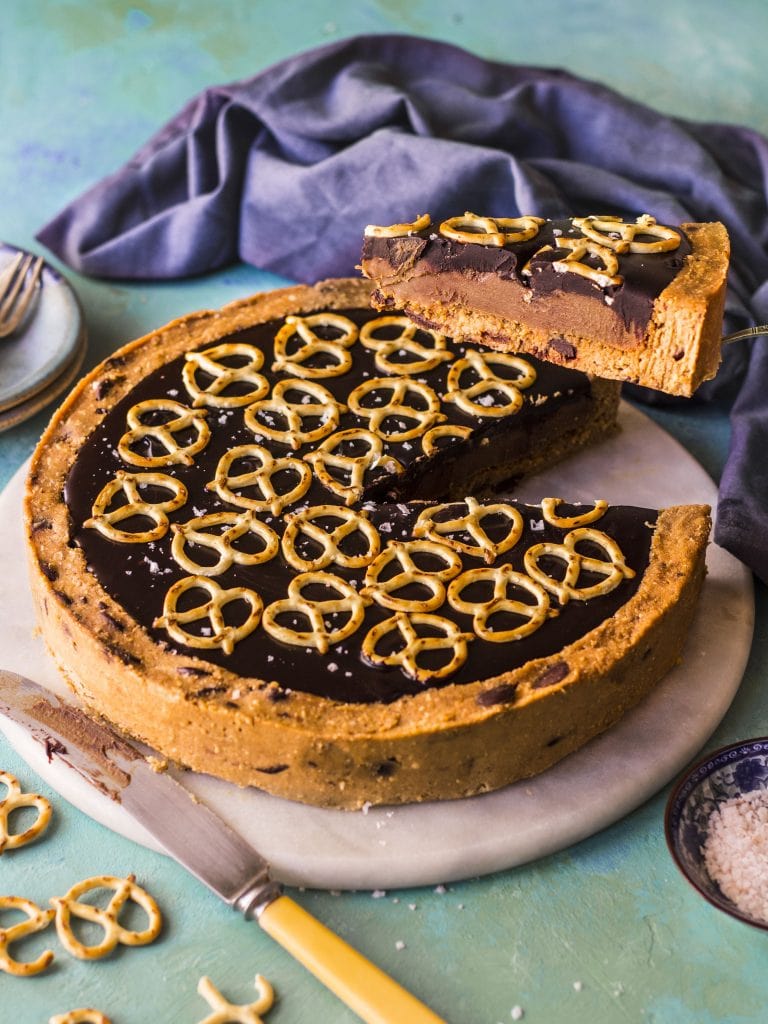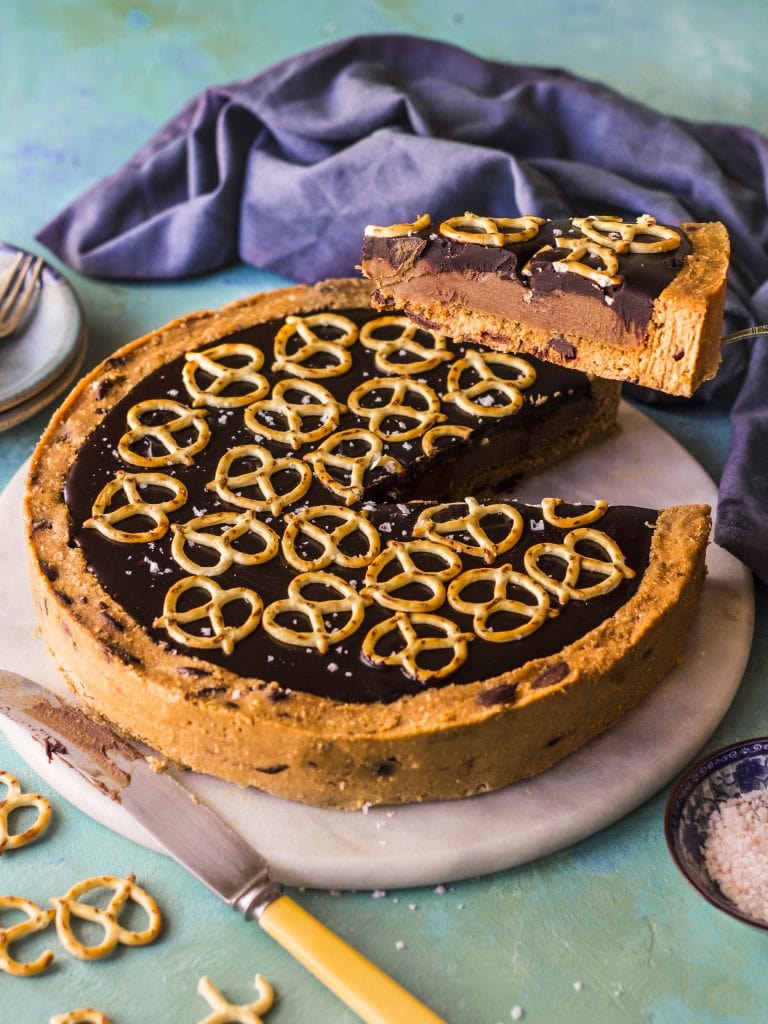 Decorating the vegan caramel tart
To complement the sweet caramel and fudgy cookie dough, I used crunchy pretzels and flaked salt to decorate the tart. However, you can also decorate or serve the tart with:
Chopped nuts
Rose petals
Activated buckwheat
Pourable coconut cream
Coffee
ICE CREAM!
Enjoy til your heart is content xo
Print Recipe
Vegan Caramel Tart with a Cookie Dough Base
Vegan Caramel Tart made with no gluten, no refined sugar and no dates! The tart base is cookie dough studded with chocolate chips and the tart is topped with an easy chocolate ganache, pretzels and flaky salt!
Instructions
Grease a 25 cm (10-inch) loose-bottom tart tin or spring-form cake tin.
To make the base:
Add the rolled oats to a food processor and process for 3 minutes or until it forms fine crumbs. Add the chickpeas/butter beans, nut/seed butter, sugar, oil, vanilla, and salt and process until it forms a paste. If the mixture is dry, add a little milk or water then process until it forms a fudgy consistency. Remove the blade from the food processor and mix in the chocolate until evenly distributed.

Scoop the cookie dough into the cake tin. Use a spatula to press the mixture against the bottom and sides of the tin, allowing the crust to be 1.5 cm (½-inch) thick. If desired, use wet hands to smooth the surface
To make the caramel:
Add the sugar and coconut cream to a medium-size pot. Bring to a simmer over medium heat for 10-15 minutes or until thickened. Remove the pot from the heat and add the coconut oil and butter to the caramel. Mix until all ingredients are combined and emulsified (note 2).

Allow the caramel to cool slightly. Pour the caramel into the cookie dough crust and place it in the fridge for around 2 hours or until fully set.
To make the ganache topping:
Add the chocolate and coconut cream to a medium-size pot. Over low heat, mix the ingredients until they are fully melted and combined. Pour the chocolate over the set caramel filling. Top with pretzels and flaky salt if desired. Place the tart in the fridge for 30 minutes or until set. When the chocolate is firm, serve as desired.

The tart can be stored in an airtight container at room temperature for 1 day, in the fridge for up to 5 days or in the freezer for up to one month.
Notes
Use refined coconut oil if you don't want a coconut taste. If you don't mind the taste of coconut, use unrefined coconut oil.
If your caramel has separated or is not emulsifying, add a dollop of nut/seed butter and use a stick blender to emulsify the mixture.
This post may contain affiliate links. As an Amazon Associate, I may earn a small commission from qualifying purchases at no additional cost to you.