No bake vegan cheesecake with all the colours from the rainbow. Healthy, gluten free and colourful.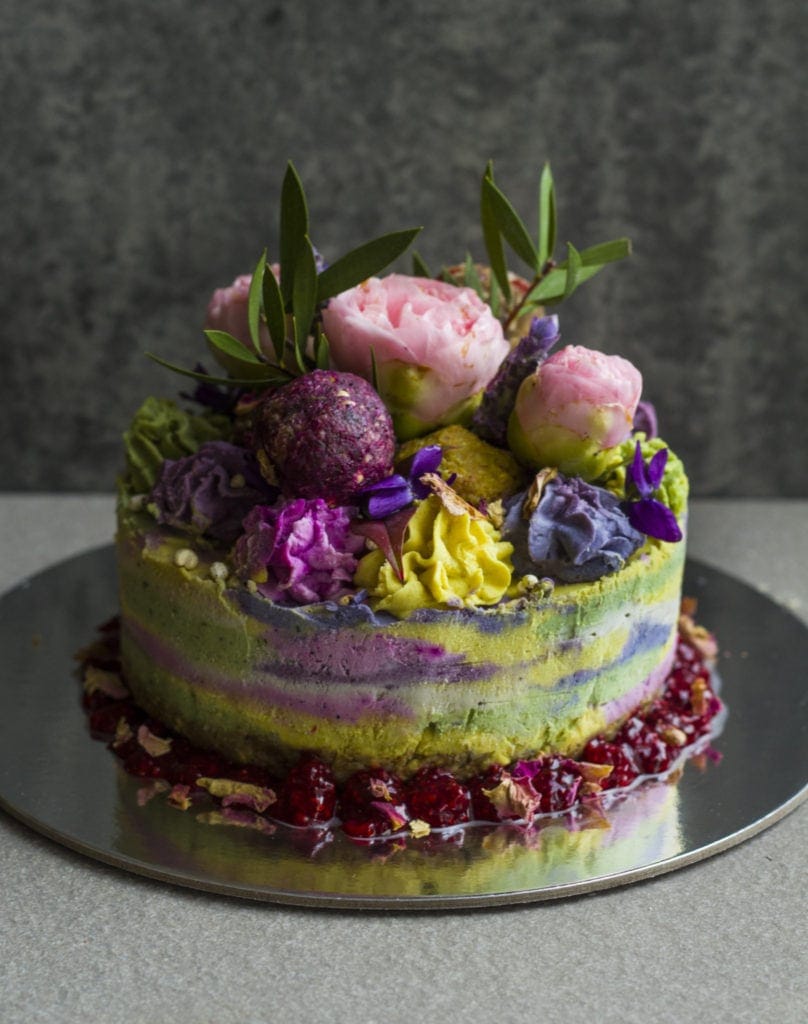 I have to admit and apologise, things have been super quiet on my blog recently. I've been crazily working on my ebook and cake business. On the upside, I'm hoping to release my ebook in the next month (!!) which will mean you will have access to some beautiful recipes!
As my life gets busier, I often have to remind myself to practise self-care. I'm definitely not 'perfect' and do not have a good work-life balance. Maybe it's because I work from home or maybe it's because I actually enjoy work (!!) so it doesn't always feel like an obligation.
One of the things I do to create better balance in my life is by creating a space at home where I am truly comfortable and at ease. So, one of my rituals is getting into my pjs no matter what time of the day is!
This robe speaks my language in so many ways. It's colourful, is reminiscent of nature and art.
This cake is naturally coloured with superfoods, fruits and veggies. I have to be honest, it can be a bit time consuming and fiddly. However, it's super easy to make and would be fun to make with kids!
The cake is like an optical illusion - the colours change depending on which angle you look at it ;)!
Many of you requested the recipe via my social media, so here it is:
Print Recipe
Raw rainbow vegan cheesecake
No bake vegan cheesecake with all the colours from the rainbow. Healthy, gluten free and colourful.
Ingredients
Instructions
For the base, drain the dates and add all ingredients to a food processor. Whizz until combined. Pressed mixture into a small lined cake tin (I used a 15cm cake tin), reserving a handful of the mixture for decorations.

For the cheesecake mixture, add all ingredients to a high-powered blender and blend until smooth.

Divide cheesecake mixture evenly into 6 small bowls. Add a flavouring to each of the 6 bowls and mix each bowl until combined. If necessary, use a whizz stick to further puree cheesecake mixture. For example, you will need to do this with the mint cheesecake mixture to puree the spinach leaves.

Alternatively spoon all of the cheesecake mixtures into cake tin reserving a spoonful of each mixture. Freeze cake for 4-6 hours or until set.

Meanwhile, pick your favourite flavours and mix separately with the reserved base mixture. Roll into desired number of bliss balls.

Decorate cake with remaining cheesecake mixture and bliss balls. Thaw out cake to serve or store in an airtight container in the fridge for 3 days or in the freezer for a few months.