Lentil shepherd's pie with a fun purple sweet potato topping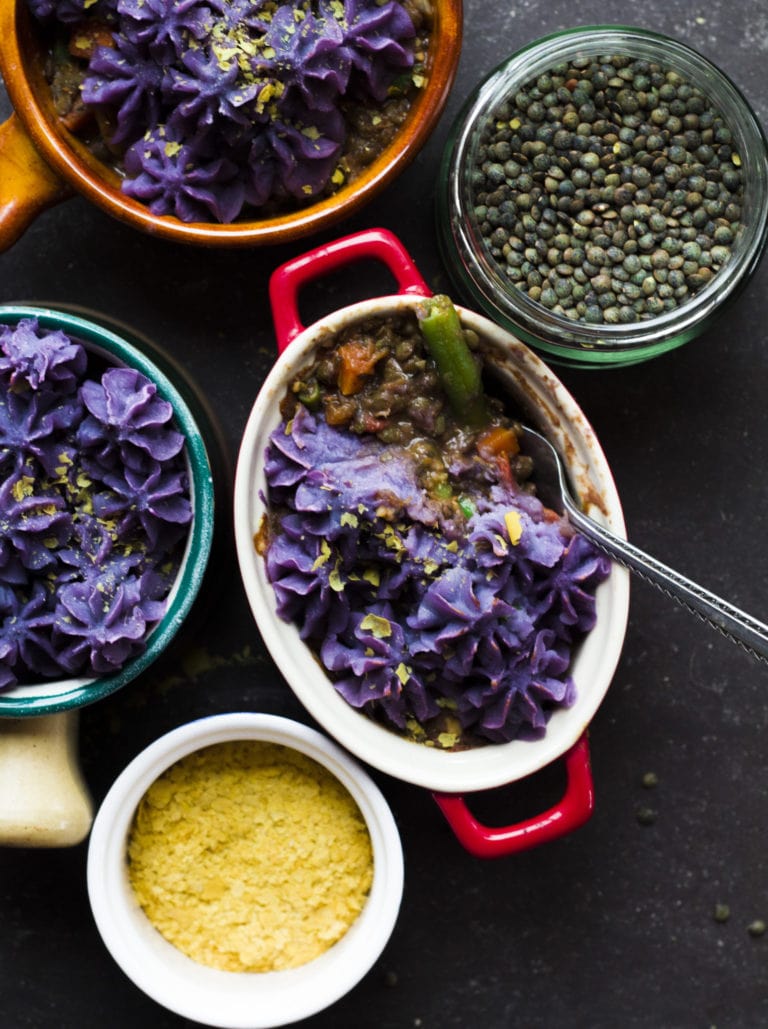 An easy and colourful vegan shepherd's pie perfect for getting the kids to eat their veggies or adults who just love colourful and tasty nourishing food.
This pie was medicine for my body and soul. My last few months have been occupied with raw vegan desserts as I finalised my dessert ebook and prepared cakes for an annual vegan festival in my city. Not to mention, I still kept up with the demands of the busy birthday and wedding season and made custom cakes for customers. My Instagram and Facebook feeds are overflowing with intricate colourful desserts. When I look back on my social media feeds, I wonder how a low-key and sloppy person such as myself managed to make all of the cakes.
My savoury meals as of late have been microwaved kale, canned beans (if I was lucky) and some sort of dressing. Every day, for lunch and dinner unless I dragged my chocolate-stained body and clothes out of my door.
In order to ease myself out of my 2 food 'diet rut', I ensured this pie was simple as possible. But I had to add colourful veggies, cos that's just how I motivate myself to do stuff.Purple food is a perfect excuse/reason to eat more veggies. I added a bit of coconut cream/milk to the potato to make it extra creamy. Oh myy....The recipe is super easy. You basically boil the potatoes and puree them. Cook everything else in a pot, assemble and bake (though you could probably skip the baking bit).The lentil, veg and herby filling is oh so comforting. After it cooks and thickens, it becomes so moreish that I could eat it by the bowlful. The lentils kind of dissolve in the sauce making it look a bit meaty like a conventional shepherd's pie. This wasn't my intention, but if you like things that like, extra brownie points!
And I must still be in cake mode as I piped the sweet potato on the filling. Feel free to slop and spread the potato over the filling as you wish :).
Print Recipe
Lentil and Purple Sweet Potato Shepherds Pie
Lentil shepherd's pie with a fun purple sweet potato topping
Ingredients
Topping
1

medium-sized purple sweet potato

,

about 15cm long or 400g

¼

cup

dairy-free milk

Salt and pepper
Filling
½

onion

1

tomato

extra virgin olive oil,

or water

1

cup

vegetable broth (stock)

1

carrot

½ - 1

cup

green beans

1

x 400g can

lentils of choice

,

(I used puy lentils*)

Dried basil, oregano, thyme and other herbs as desired

2

tablespoons

all-purpose plain flour,

+ 1 tablespoon water (optional)

Salt and pepper
Instructions
Preheat oven to 180C.

For the topping, peel and chop the potato and boil in a saucepan for around 15 minutes or until soft. Drain and add to a bowl with the milk and desired seasonings. Use a whizz stick to puree and set aside.

For the filling, peel and chop all vegetables.

In a large saucepan, add the onion, garlic and tomato and saute with oil or water. When fragrant, add the vegetable stock, carrot, green beans, lentils and herbs. Simmer for 10 minutes or until vegetables have cooked through.

Optional: In a small bowl, mix the flour and water until smooth. Add to the saucepan and quickly stir. Add salt and pepper to taste.

Pour lentil mixture into a casserole dish(es). Spread the sweet potato on top as desired.

Bake for 10 minutes or until the top of the potato has turned golden brown.

Remove and let cool for 5 minutes. Enjoy!
Notes
*Feel free to substitute with ½ - ¾ cup dried lentils. If you do, boil for about 20 minutes beforehand.