Fudgy and crispy vegan chocolate cookies studded with chocolate chips AND tangy raspberries. I provided an option for those who avoid gluten and refined sugar because everyone deserves to enjoy these cookies. They are perrffect with a sprinkle of flaked salt, ice cream or hot chocolate!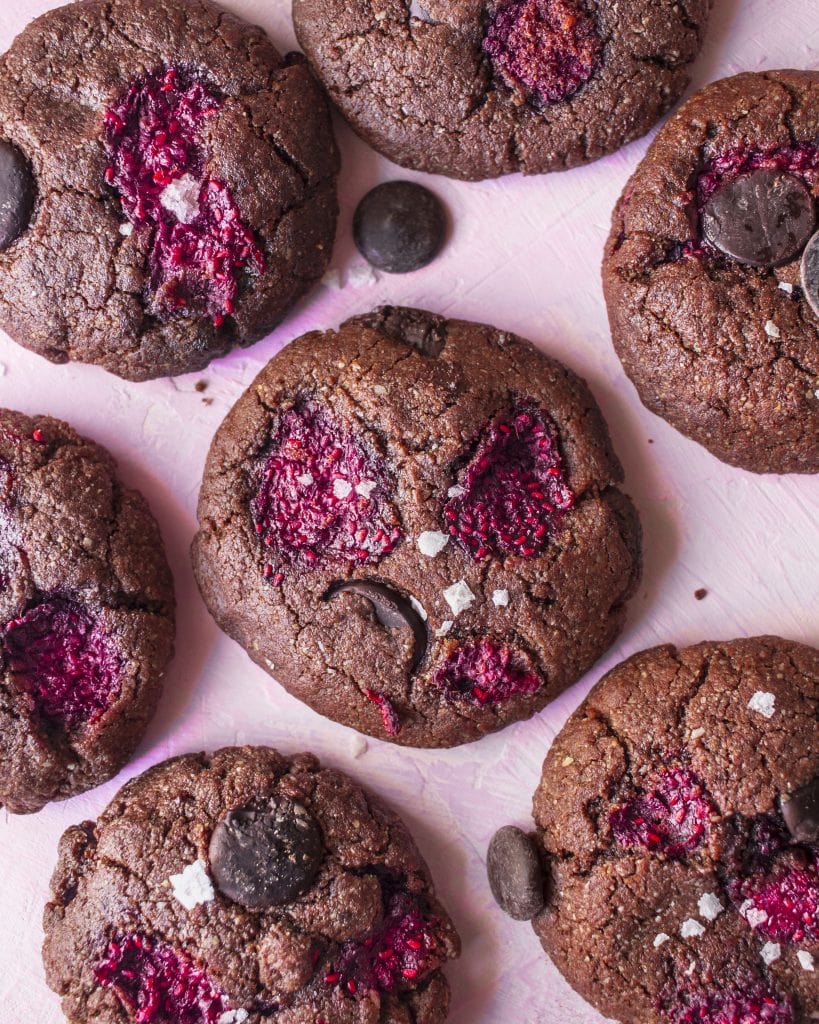 Why cookies are the best kind of dessert
I'm not sure about you, but I would choose cookies over cake ANY day. Cookies can be crunchy, fudgey, chewy, cakey or soft... but cake is really just cake. Sorry!
These cookies are loaded with not just one but TWO types of chocolate (cocoa/cacao powder and chocolate chips). Their richness is balanced out with fruity and tart raspberries. Chocolate and raspberries are, in my humble opinion, one of the most compatible couples in the dessert world.
How do you make vegan cookies?! Let's explore some baking science...
Conventional cookies use butter, eggs and sometimes milk but there are definitely delicious, affordable AND easy ways to omit those ingredients.
Cookies without butter?
Butter normally adds fat, flavour and moisture to cookies. I replaced the fat with a light-tasting oil. You can use plant-based butter if you prefer! Since oil is a liquid, I balanced it out with additional flour.
Oil or liquid ingredients are more likely to make cookies spread when they are baked. However, I carefully crafted this recipe so you end up with cookies instead of crepes!
Cookies without eggs?
Eggs are normally used to bind and leaven cookie ingredients and adds to the richness of cookies. I used a combination of chia/flax seeds and plant-based milk to mimic the binding properties of eggs.
I also used baking soda to help bake and lift the ingredients instead of eggs. Eggs normally provides richness and fat but I compensated this with almond meal in this recipe.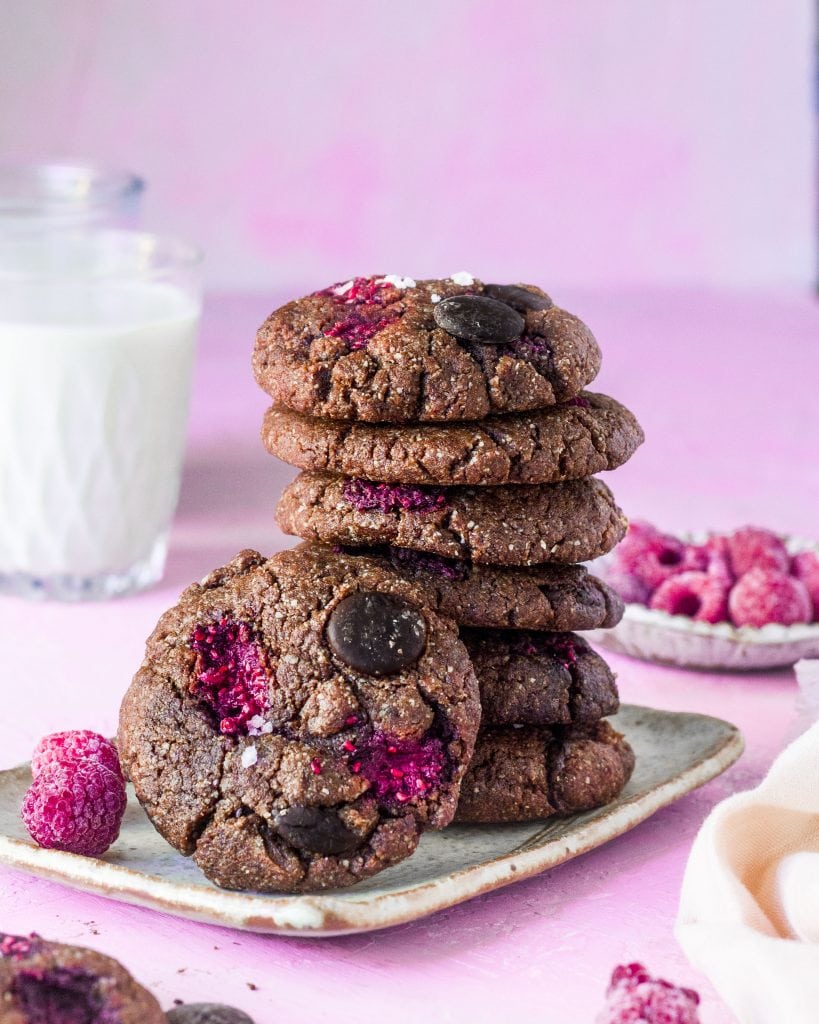 Cookies without milk?
Milk is definitely the most straight-forward ingredient to replace in vegan baking. Today, there are PLENTY of plant-based milk options such as soy, almond, rice and oat. Since cookies don't need much liquid, the type of milk has a negligible impact on the result!
These cookies are an adaptation of my Vegan Triple Chocolate Cookies. They were too good not to replicate :).
Print Recipe
Double Chocolate and Raspberry Cookies
Fudgy and crispy vegan chocolate cookies studded with chocolate chips AND tangy raspberries.
Ingredients
Cookie Wet Ingredients
⅓

cup (85g)

neutral flavored oil

~¼

cup (65g)

dairy-free milk,

(as needed)

~¾

cup (110g)

frozen raspberries***
Instructions
Preheat the oven to 180°C (350°F). Line a baking tray.

To make the cookies: In a large-size bowl, add all the dry ingredients and mix until combined. Add all the wet ingredients except the raspberries and mix until the mixture forms a soft dough and can be pinched between two fingers and stays together. Add more milk if necessary.

Gently fold the frozen raspberries into the cookie dough. Don't worry if they don't fully mix in.

Roll the cookie dough into balls (each should be around 62g) and flatten them on the baking tray. If there are any choc chips or raspberries remaining, press them into the cookies.

Bake the cookies for 12-18 minutes or until the edges are crisp. Allow the cookies to cool at room temperature.

Store the cookies in an airtight container at room temperature for up to 3 days, in the fridge for up to 5 days or in the freezer for up to 1 month. These cookies may soften over time. If you would like to crisp them up again, reheat them in the oven at around 160°C (320°F) for 10 minutes. When they cool down, they will be crisp again.
Notes
*If you cannot have almond meal, substitute it for additional flour and add 2 extra tablespoons of oil to compensate for the natural oils in the almond meal.
**If your chia seeds are not ground, it's easier to blend them with the liquids in the recipe then combine them with the rest of the ingredients.
***It's easier to use frozen raspberries rather than fresh raspberries as frozen raspberries stay more in tact when mixing the ingredients and shaping the cookies.
Nutrition
Serving:
1
cookie
|
Calories:
266
kcal
|
Carbohydrates:
28
g
|
Protein:
5
g
|
Fat:
17
g
|
Cholesterol:
1
mg
|
Sodium:
78
mg
|
Potassium:
107
mg
|
Fiber:
4
g
|
Sugar:
11
g
|
Vitamin A:
4
IU
|
Vitamin C:
2
mg
|
Calcium:
74
mg
|
Iron:
1
mg
This post may contain affiliate links. As an Amazon Associate, I may earn a small commission from qualifying purchases at no additional cost to you.