Easy vegan pumpkin chai cheesecake which is healthy, is gluten free and has no refined sugar.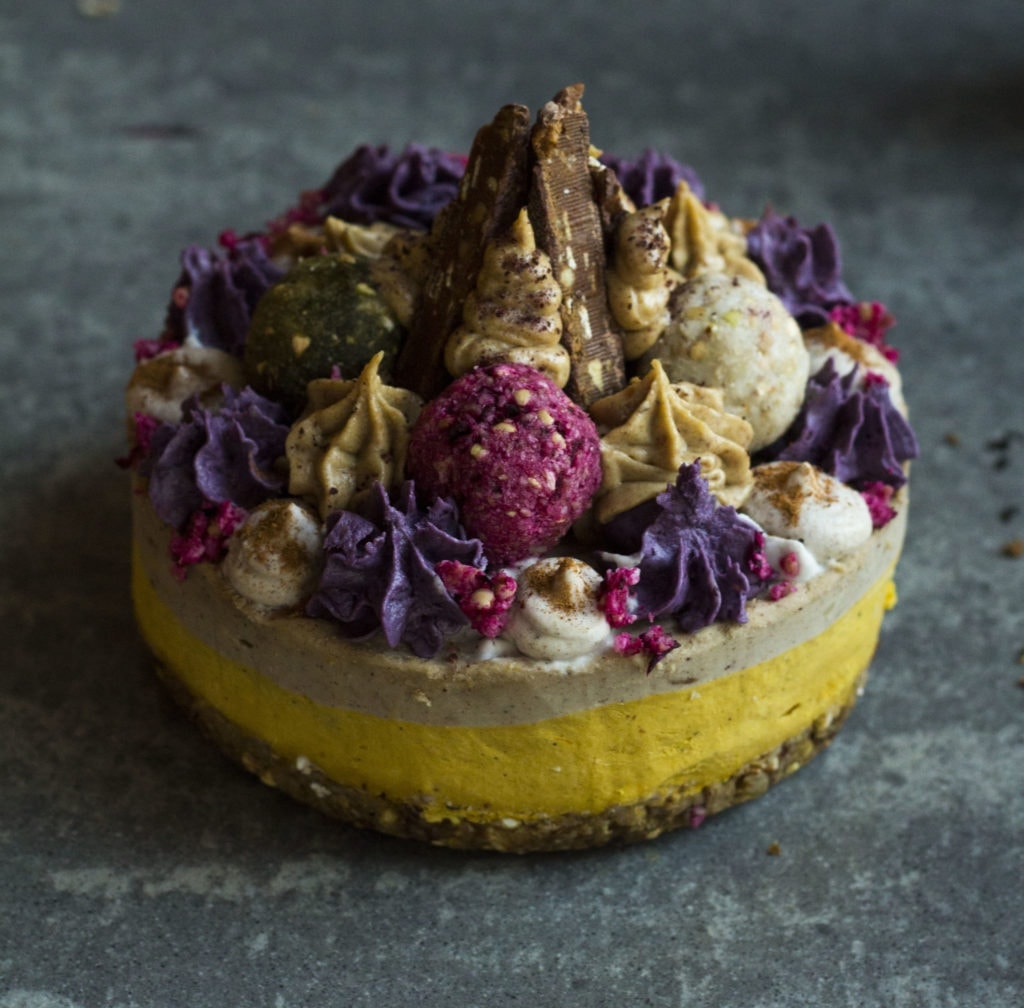 To be honest, I've recently felt very conflicted with my cake business.
Due to the privatised nature of cake businesses, I haven't published the recipes of any of my raw cheesecakes. However, this clashes with my love for food blogging and sharing recipes with others.
I love allowing others to enjoy the same foods that I enjoy in my own kitchen. I love seeing other people get excited about being able to recreate my treats.
However, I'm breaking the rules this time. I made a cheesecake as a much-needed treat for myself and I am going to share the recipe with you!
It's quickly cooling down in Australia, so it only made sense for me to make a cake inspired by Autumn/Winter. If you love pumpkin soup and creamy chai drinks, you will love this cake!
I used a special Indian Masala Chai tea blend from West End Tea Co, a small tea company in Brisbane Australia. The tea blend contains cinnamon, star anise, clove, cardamom seeds, fennel seeds and nutmeg (everything is organic except the star anise). According to LiveStrong, cinnamon helps reduce blood-sugar levels and has powerful anti-bacterial properties. Star anise has similar benefits and nd also acts as an antioxidant which is great for the cooling weather!
The tea blend has much more personality than any other chai blends I've tried. It's robust yet delicate. It's slightly sweet, got a slight zing and is reminiscent of some exciting, mysterious and shall I say 'exotic' location overseas.
I've used other chai blends in cheesecakes before but they just don't have the same punch that this tea blend has. I've been using a lot of West End's tea blend recently. Sipping on a cuppa gives me the rare chance to take a break and practice some mindfulness during my 12+ hour days. They are the perfect way to ensure I hydrate myself and just give me zen.
After all, no one wants a cranky person making their cakes!
I paired the chai flavour with pumpkin to give it some extra robustness and depth. Plus, it makes complete sense to pair a wintery drink with a wintery vegetable. The base is crunchy and gluten free. The cake has 2 creamy layers of spiced pumpkin cheesecake and chai cheesecake.
The decorations look like a pixie's playground (just how I like it). However, they are all mysteriously carefully spiced to complement the chai flavour of the cheesecake.
The cake is topped with whipped cinnamon coconut cream, blueberry cheesecake swirls lightly spiced with ginger, colourful bliss balls spiced like gingerbread and a chai tahini caramel. The cake is colourful and playful yet reminiscent of a warm chai tea or a warm hug in Australia's cooling weather.
If you make this cake, you definitely don't need to have all of these toppings. I'd suggest just doing a couple of them or using anything in your pantry. You don't even need decorations! Either way, just enjoy it and remember to do lots of taste testing ;).
Did I say how beautifully creamy it was?
Print Recipe
Chai and pumpkin (almost) raw cheesecake
Easy vegan pumpkin chai cheesecake which is healthy, is gluten free and has no refined sugar.
Ingredients
Base
⅓

cup

dates

,

soaked in water overnight

¾

cup

mixture of any nuts, seeds or coconut

1

tsp

chai tea leaves

,

+ ⅛ cup water

Pinch

any good quality salt
Optional toppings
Whipped coconut cream: ¼ cup coconut cream, cinnamon to taste
Colourful bliss balls: ¼ cup nuts and seeds, 2 tbsp rice malt syrup, natural colourings as desired
Chai-spiced caramel: ¼ cup dates, soaked in water overnight, ⅛ cup tahini, leftover chai cheesecake
Fruity chai frosting: Any type of fruit, leftover chai cheesecake
Additional: Any chocolate with spices, nuts with spices, whatever is in your pantry!
Instructions
The night before, soak the dates (for the base) and the cashews (for the pumpkin and chai layers) in enough water to cover. Steep the chai leaves in water (for the base) and in coconut milk (for the chai cheesecake later). Store in fridge.

Preheat oven to 200C. Line a baking tray and 14cm cake tin with baking paper.

Spread the pumpkin on the lined baking tray and bake for 30 minutes or the pumpkin has turned golden brown and reduced in size.

For the base: Drain the dates and strain the chai leaves and water reserving the water. Add all ingredients to a food processor and whizz until combined. Press evenly into the bottom of the cake tin.

For the chai cheesecake layer: Drain and rinse the cashews. Strain the coconut milk and chai leaves reserving the milk. Add all ingredients to a high-powered blender and blend until extremely creamy. Remove and set aside.

For the pumpkin cheesecake layer: Drain the cashews. When the pumpkin has cooled, add all ingredients to a food processor. Blend until extremely creamy and pour onto the cheesecake base. Smooth the top and put in the freezer to set.

When the pumpkin layer has partially set, pour the chai cheesecake into the cake tin reserving a little cheesecake for decorations. Smooth the top of the cake and put in freezer to set.

Optional Toppings: use any of the following toppings or use your own toppings to decorate the cheesecake as desired.
- Whipped coconut cream: Simply place the coconut cream in a bowl and whip with an electric beater until stiff. Gently stir through cinnamon.
- Bliss balls: Add all of the ingredients to a food processor and whizz until combined. Separate mixture in and add colourings if desired. Shape into balls or as desired.
- Chai caramel: Add all of the ingredients to a high-powered blender and whizz until smooth.
- Fruity chai frosting: Add all of the ingredients to a high-powered blender and whizz until smooth.