This vegan Christmas Tree Pull-Apart Bread is a stunning side dish or appetizer for your holiday table! The brioche-style bread rolls are packed with herbs and naturally colored with spinach.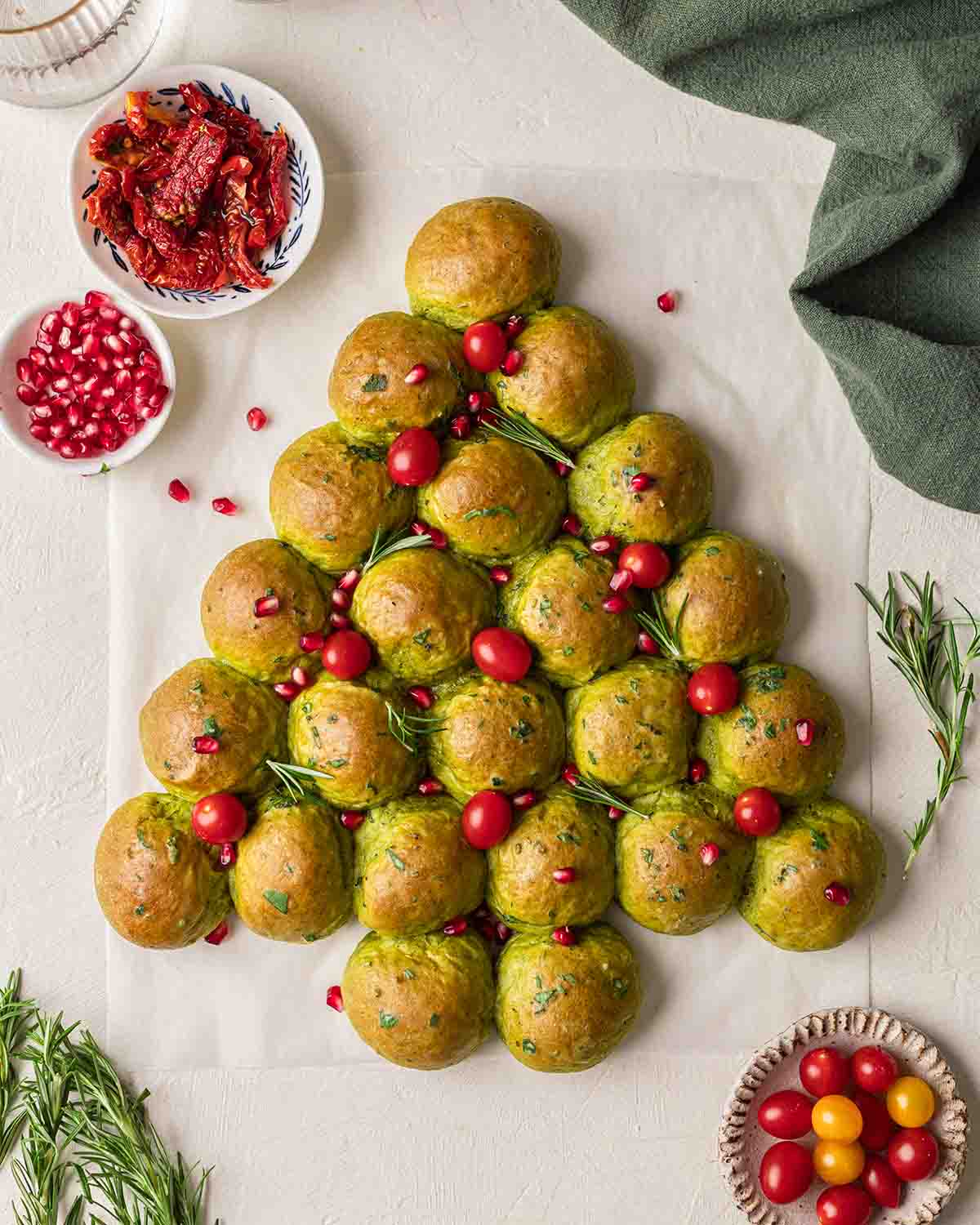 Simple ingredients you'll need
The full list of ingredient quantities and instructions are in the gray recipe card at the bottom of this post.
Notes about the ingredients
All-purpose flour or bread flour. I always prefer using bread flour as it makes bread slightly fluffier and structurally more similar to the bread you buy from the shops. However, all-purpose flour will definitely still work!
Baby spinach lends a beautiful natural green color to the dough and you cannot taste it at all! The green color keeps during baking but, like any bread, the buns brown on top. If you can't eat spinach, you can replace it with 75 grams more milk and add green food coloring. You may need to add more flour.
Mixed Italian seasoning (herbs and spices) is the main flavor of this Christmas tree pull-apart bread! Or you can use a combination of oregano, basil, thyme, garlic powder and onion powder.
Instant yeast is the easiest and quickest variety of yeast. You can use regular yeast but make sure you proof it beforehand.
Vegan block butter creates a more tender bread, compared to dough made without (for example pizza dough). Vegan block butter acts similarly to regular block butter. You may use spreadable butter however, you'll need to add more flour to your dough.
Making the spinach coloring
First, we need to puree the spinach. There is A LOT of spinach to milk so I recommend using a stick blender or stand blender (with a tamper) for this process. You can use a food processor, but there'll be a little stopping and scraping.
How to prepare the dough
If you're using instant yeast, you can simply add all the dough ingredients (and the spinach mix) to a bowl and mix until combined.
If you're using regular yeast, combine it with a few tablespoons of water and a pinch of sugar first. Wait until it bubbles and mix it with the rest of the ingredients.
The final dough should be soft and tacky but not sticky. Generally, the softer your dough, the softer your final bread will be. A soft dough also rises much more easily than a dry dough!
Resting the dough (first rise)
Since we've worked the dough, we will need to rest it for 1-2 hours. My top tip is to make sure the dough is in a WARM spot in your home. King Arthur Baking recommends resting dough between 24°C-25°C (75-78°F).
If your dough doesn't double in size, reposition it to a warmer spot in your home and wait until it does.
Dividing the dough
To create a decent-sized Christmas Tree pull-apart bread, I recommend dividing the dough into 24 parts. You'll only need 23 parts for the Christmas tree but it's easier to divide the dough into an equal number of parts. You can use the extra dough ball as a decorative star or as a snack (after baking)!
I recommend rolling out the dough and using a cake scraper, sharp knife or pizza cutter to divide it into 24 parts (or 4 columns and 6 rows). Alternatively, you can:
roll the dough into a long tube and cut it into parts OR
pinch the dough into 23-24 parts.
TIP: If you'd like to ensure each dough ball is almost the same size, weigh your final dough and divide it by 23. Use your scale to make sure each ball is the same weight.
Shaping the Christmas tree bread buns
This is the most time-consuming part of this recipe so grab a snack and turn on some music!
My favorite way to shape bread buns is to:
Fold all corners of a piece of the dough towards the center. This ensures the top of each bun is smooth and taut.
Use one hand to roll the bread bun against a clean surface. The friction of the dough against the surface will help smooth out any edges.
Alternatively, check out these how-to videos by Baking Mad and Bake with Jack.
Assembling the tree and second rise
I recommend using a very large baking sheet for this Christmas Tree Pull-Apart Bread. Your baking sheet needs to fit around 6 x 4 cm (1.5 inches) dough balls. I used the baking sheet that came with my oven!
Arrange the buns in the shape of a Christmas tree, with their seam side down.
Tips for baking the Pull-Apart Bread
Bread will always brown when it's baked. However, to maintain as much of the beautiful green color as possible, here are a few tips:
Keep an eye on your pull-apart bread while it's baking. If it's browning too quickly in the first 10 minutes, carefully cover the bread with aluminum foil (make sure the foil doesn't touch the bread).
If your oven tends to burn cakes and bread loaves on top, cover your Christmas Tree bread from the beginning. Alternatively, place an oven rack above your bread and place an empty baking tray on it. This will prevent the bread's surface from browning too quickly.
Either way, the inside of each bun stays a lovely green color after baking!
Making this bread ahead of time
The holiday season is a busy time so you may want to prepare this Christmas Tree pull-apart bread ahead of time!
One day in advance, you can make the dough and store it in an airtight container in the fridge overnight. Your dough will expand overnight so make sure there is room in your container. The next day, when the dough is warm enough to handle, shape and assemble the dough.

You can also make the dough a few days or weeks in advance. Just prepare the dough and freeze it in an airtight container.

I don't recommend shaping the dough into a Christmas tree and storing it in the fridge or freezer. The dough can deflate or crack when chilled for longer periods of time.

Alternatively, follow the recipe and store the baked bread in the fridge or freezer until needed. Make sure you warm up the bread before you serve it. Keep in mind that old bread is always a little drier.
Expert Tips
Can I add anything else to the dough?
Other complementary ingredients include:
- Regular or wholegrain mustard for flavor
- Chilli flakes for some spice
- Finely chopped firm vegetables such as capsicum. However, adding vegetables makes the dough a little trickier to shape.
- Dairy-free mozzarella-style cheese. Roll each piece of dough into a long rectangle and wrap it around a cube of mozzarella. Place each tightly sealed ball seam-side down on your baking sheet.
Can I make this gluten-free?
Gluten-free bread is tricky to get right so I only recommend using a high-quality 1:1 gluten-free flour that you've already tried and tested with another bread recipe. This recipe will not work with all gluten-free all-purpose flours.
More vegan Christmas bread recipes
Follow Rainbow Nourishments on Instagram, Facebook, TikTok and Pinterest, and subscribe via email to receive all of our latest recipes!
Print Recipe
Vegan Christmas Tree Pull-Apart Bread
This vegan Christmas Tree Pull-Apart Bread is a stunning side dish or appetizer for your holiday table! The brioche-style bread rolls are packed with herbs and naturally colored with spinach.
Ingredients
Spinach Mixture
2 ½

cups (75g)

packed baby spinach leaves

⅓

cup (85g)

dairy-free milk,

warm

1

tablespoon

dried mixed Italian herbs

1

tablespoon

ground garlic

,

or more dried herbs
Bread Dough
2 - 2 ½

cups (250g - 310g)

all-purpose plain flour,

bread flour (start with less flour and add more if needed)

⅓

cup (85g)

vegan butter,

room temperature

2

tablespoons (30g)

lemon juice

2

tablespoons (25g)

granulated sugar

2

teaspoons

instant yeast

,

(note 1 for regular yeast)

Pinch of

salt

,

if using unsalted butter
Glaze
1

tablespoon

vegan butter

1

tablespoon

fresh or dried herbs

,

such as oregano, rosemary or other Italian-style herbs
To serve (optional)
pomegranate arils

cherry tomatoes

sun-dried tomatoes

,

or sun-dried capsicum

marinara sauce

,

pizza sauce, vegan cream cheese or dip of choice
Instructions
Make the spinach mixture :
Add the spinach, warm milk, herbs and spices to a deep bowl or blending jug and blend with an immersion blender. Alternatively, use a stand blender with a tamper. There isn't much liquid so you'll need to scrape the sides of the blender a little.
Make the dough:
Add the spinach mixture and all the other dough ingredients to a stand mixer (with the dough attachment) or a large bowl. If using a stand mixer, knead the dough for 5-10 minutes. If mixing by hand, mix the ingredients in your bowl with a large wooden spoon. Transfer the dough to a lightly floured surface and knead until smooth.

The dough should be tacky but shouldn't stick to the side of the bowl. If the dough is sticky, add a little more flour and knead again. If the dough is too firm or dry, add a dash of milk and knead again.

Place the dough in a clean bowl. Cover with a tea towel and leave in a warm spot for 1-2 hours or until doubled in size.
Assemble the Pull-Apart Bread:
Divide the dough into 24 equal parts. Shape each part into a smooth ball.

Place a sheet of parchment paper on a large baking sheet.

Arrange the balls of dough seam side down in a Christmas tree shape (including the tree trunk) on your prepared baking sheet. Leave a little room between each ball as they will expand. You will have one dough ball left over which you can shape into a star to top the tree or place on another piece of parchment paper to rest (enjoy it as a snack later).

Cover the tray with a tea towel. Let the Christmas Tree Pull-Apart Bread rest in a warm spot for 1-2 hours or until the dough is puffy again.
Baking and serving the Pull-Apart Bread:
When the bread is ready to bake, preheat your oven to 180°C (350°F).

Bake the bread for 22-28 minutes or until the surface is evenly golden brown and the sides of each ball look cooked.

Melt butter in the microwave or stovetop. Mix with herbs in a small bowl. Brush the butter mixture on your bread while it's warm.

If desired, sprinkle the pull-apart bread with cherry tomatoes and pomegranate arils. Serve the bread warm with your favorite marinara sauce or condiment of choice.
Notes
If you use regular yeast, combine it with 2 tablespoons of warm water and a pinch of sugar beforehand. Wait until it bubbles then use it in the recipe.
Nutrition
Serving:
2
buns
|
Calories:
136
kcal
|
Carbohydrates:
18
g
|
Protein:
3
g
|
Fat:
6
g
|
Sodium:
69
mg
|
Potassium:
82
mg
|
Fiber:
1
g
|
Sugar:
3
g
|
Vitamin A:
914
IU
|
Vitamin C:
3
mg
|
Calcium:
25
mg
|
Iron:
1
mg
This post may contain affiliate links. As an Amazon Associate, I may earn a small commission from qualifying purchases at no additional cost to you.