This upside down vegan blood orange cake is fluffy, tender and melts in your mouth. It uses only 6 ingredients, can be made gluten free and is perfect for morning or afternoon tea!
This is honestly the best upside down cake I've ever had! The addition of blood orange juice (an acidic ingredient) makes the cake utterly moist and soft. And the caramelised blood oranges are simply gorgeous!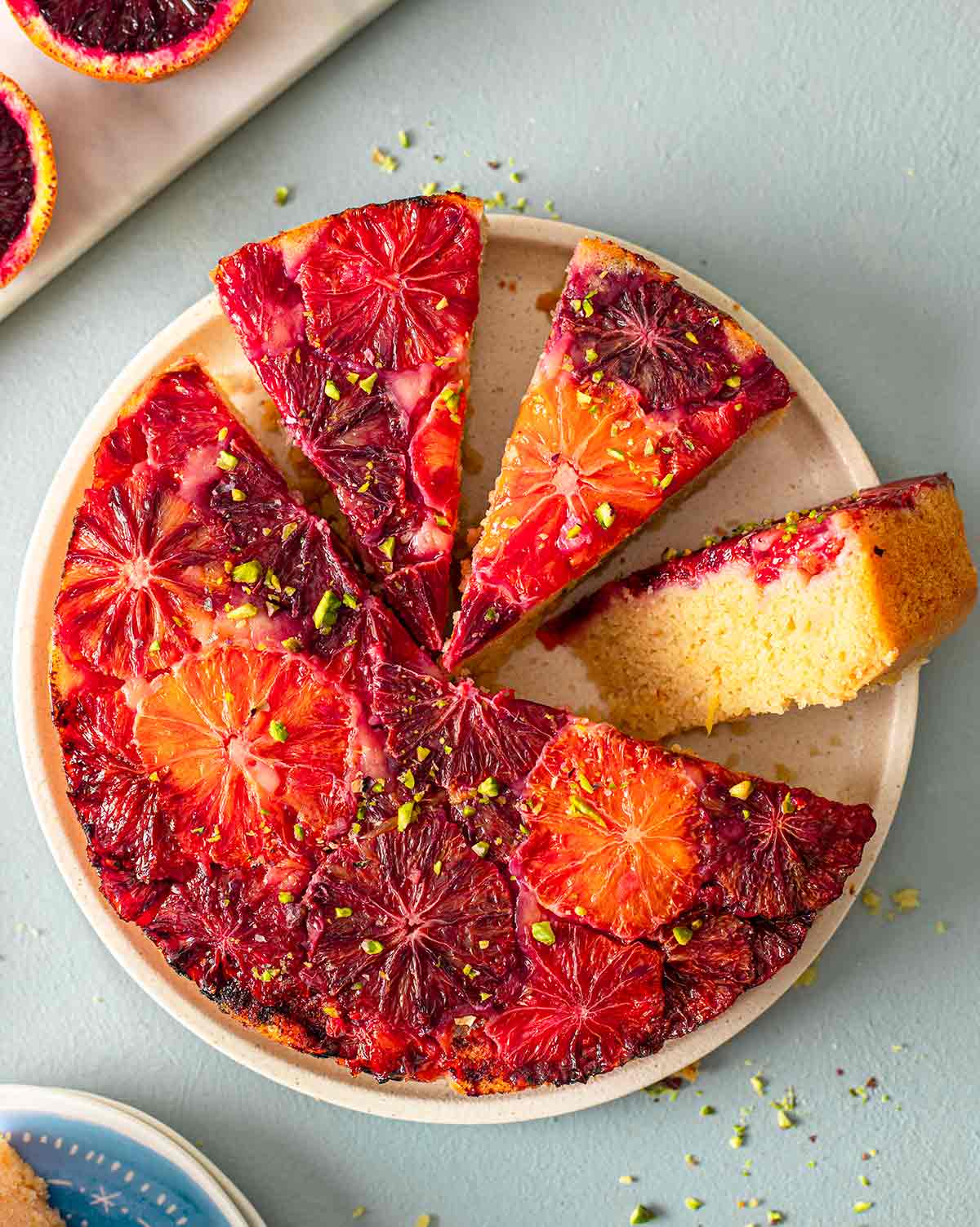 What to expect from this vegan orange cake
If you're after a simple, delicious but visually spectacular cake, this is the cake for you!
I love that this cake is made in just one bowl. The most difficult step is chopping the rind off the blood oranges (and cleaning the red aftermath). But the taste and visual impact of the final cake is totally worth it!
Alternatively, check out my vegan orange cake using a whole orange!
Step by step video: how to make vegan blood orange cake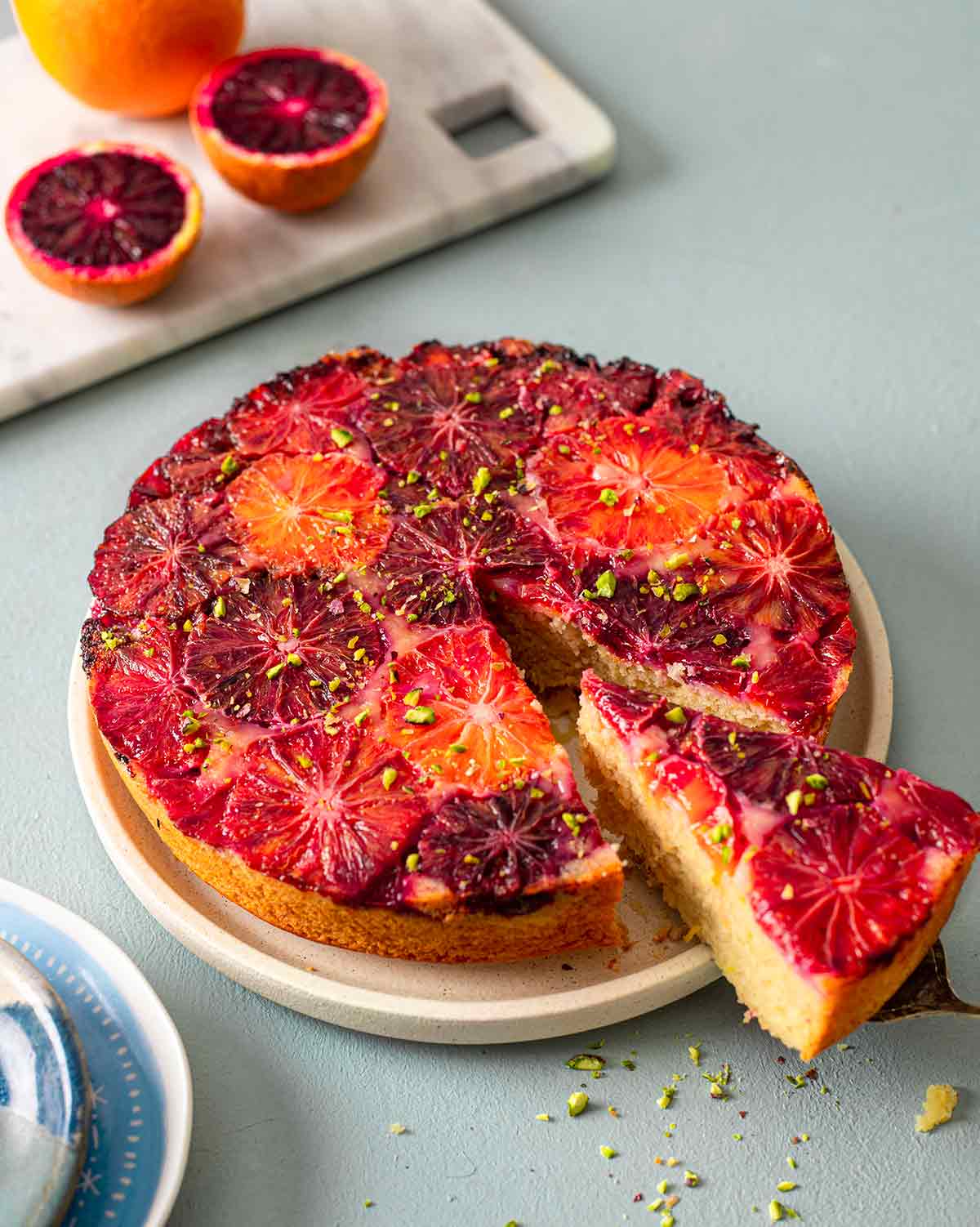 6 ingredients you'll need
All-purpose / plain flour. Whole wheat or spelt flour can also be used but will result in a less fluffy cake.
Almond flour / blanched almond meal to add moisture and a hint of almond flavour which really complements the blood oranges. If you're allergic to nuts or don't have access to almond flour, I've listed an alternative in the grey recipe box at the bottom of this page.
Cane sugar which can be slightly reduced (details are in the grey recipe box). Or if you would like a healthy blood orange cake, you can use coconut sugar instead, although this will make the cake slightly darker.
Blood oranges, blood orange juice and zest. The blood oranges are used to top the cake and the juice/zest are used to flavour the cake. The juice/zest gives the cake a beautiful natural pink/orange colour! You can also use regular oranges and/or mandarins (keeping mind that mandarins have a more subtle taste).
Light tasting oil such as sunflower, rapeseed or olive oil. Olive oil will actually complement the flavour of the oranges!
Baking powder for that rise and salt (optional) for extra punch.
If you're feeling fancy, you can also add a dash of vanilla extract or orange blossom water to this vegan blood orange cake!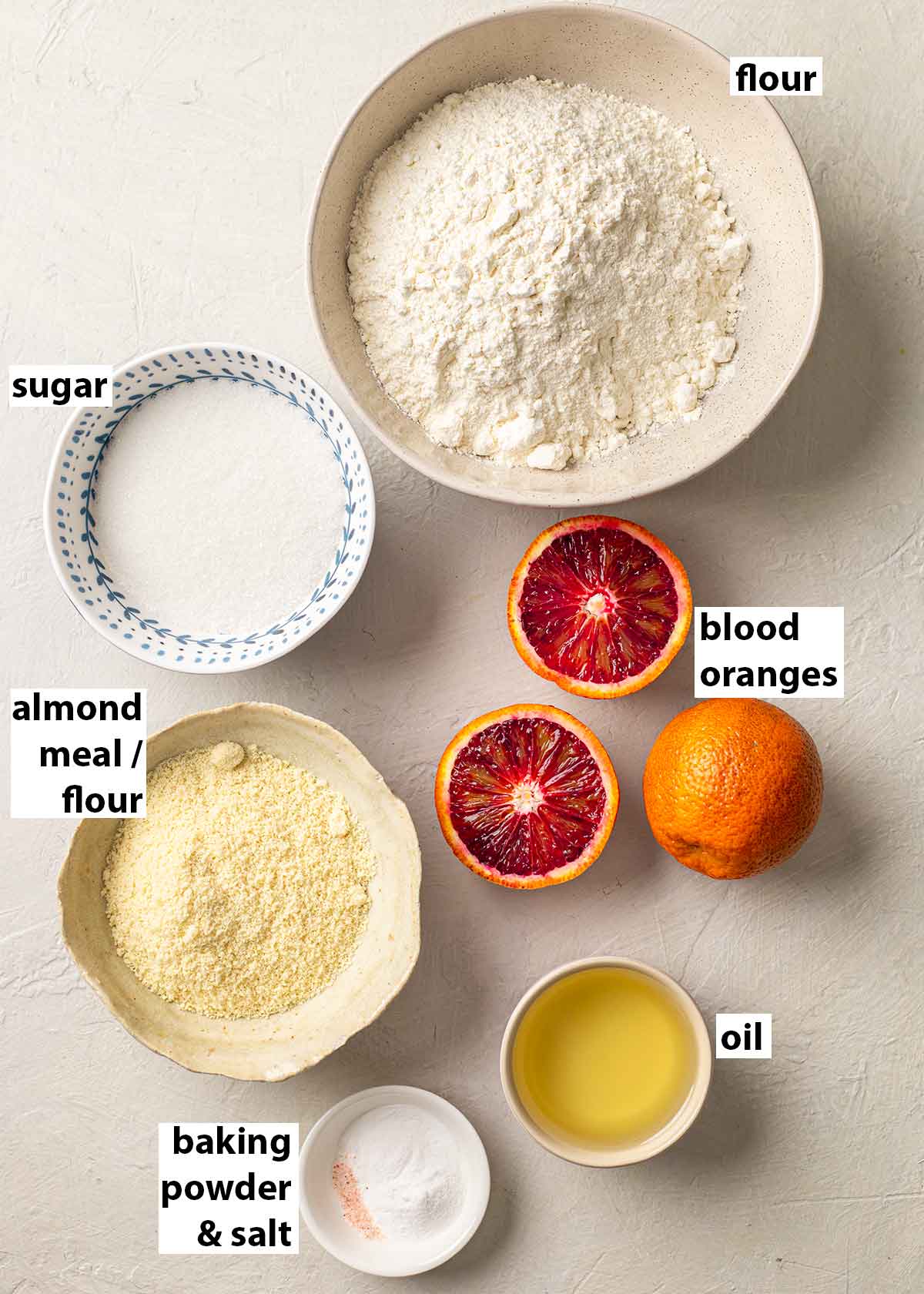 Preparing the topping for the cake
Don't be intimidated by slicing the blood oranges. It's easy once you get the hang of it!
I personally found the easiest method for cutting the blood oranges were:
Slice one end off a orange. Keep the ends for juicing later.
Place the orange flat side down on the chopping board. This makes the next step SO much easier (no one wants to cut a rolling orange!).
Following the shape of the orange, cut the rind off the sides. It doesn't need to be perfect! And of course, you can leave some rind on the orange.
Place the 'naked' orange on it's side and slice carefully. It really helps if you have a sharp knife for this!
Tip: if you accidentally cut too much into an orange, you can use it to patch up gaps in the topping or simply juice that orange for the actual cake ;).
Alternatively, you can cut the whole orange into slices *then* cut the rind off each individual slice. However, this is a little more time consuming.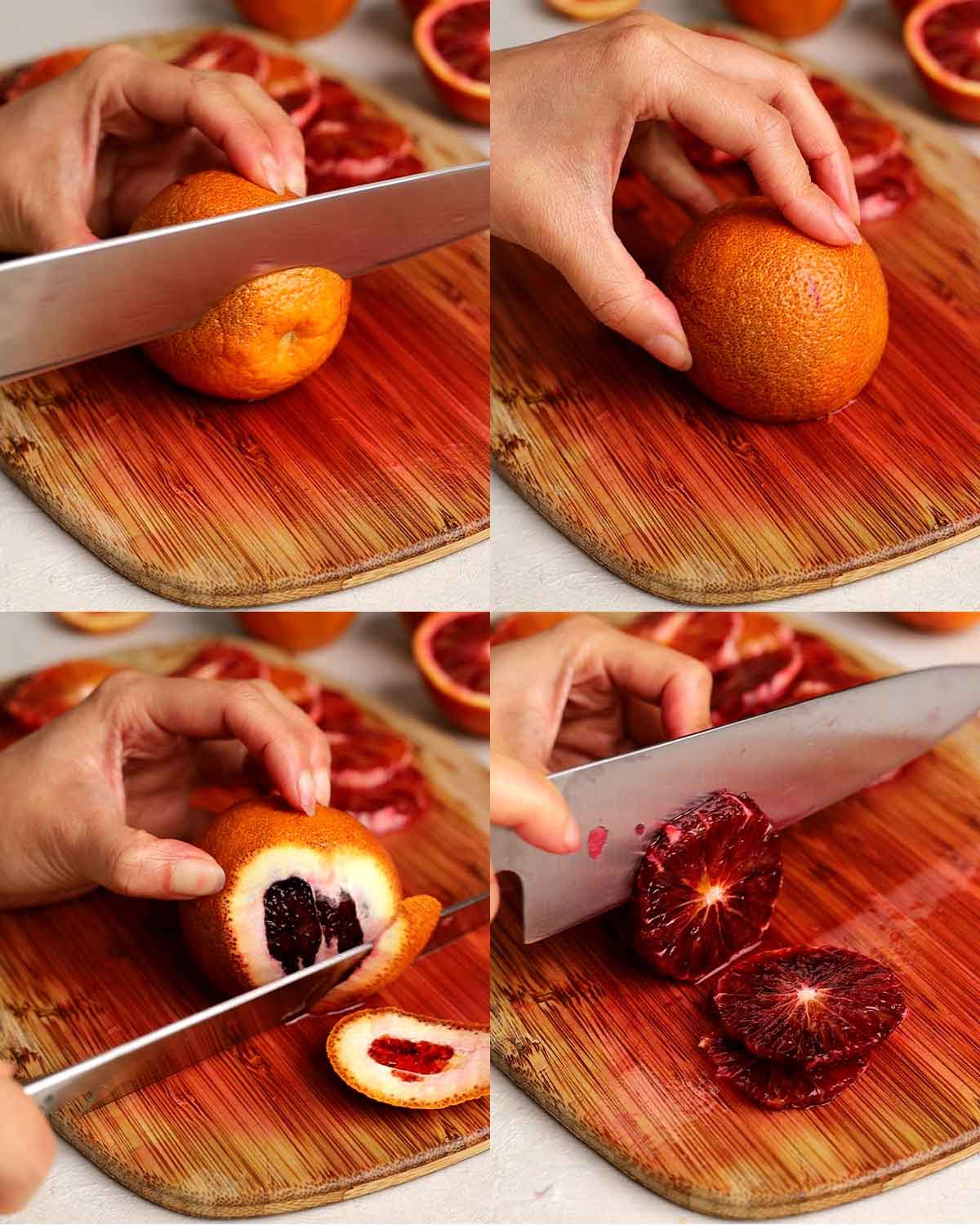 Next, grease the bottom of your cake tin and sprinkle some sugar on top. It helps if your cake tin is air tight and enclosed (like a regular cake tin or spring form tin). I used a loose bottom cake pan which worked but some of the juices of the blood oranges leaked through the gaps (no biggie, just a heads up)!
Next, I randomly arranged my blood orange slices on the cake base. You can create a pattern if you'd like but I simply couldn't be bothered! And try to make sure there aren't any big gaps between the orange segments.
Preparing the cake batter
This step is SUPER easy. Simply add all the dry ingredients to a large bowl and mix until combined. Add all the wet ingredients and mix until there are no lumps of dry flour (some general lumps are fine).
The cake batter is relatively thin which helps create a moist and beautiful final crumb! Pour the cake batter into your cake tin on top of the blood oranges then bake :).
Baking the cake
We are baking the cake at a slightly lower temperature than normal. This helps create a flatter cake and minimises any chances of the oranges burning!
Once the cake has finished baking, I'd recommend:
Cutting the small dome of the cake (if any). We don't want to invert a domed cake because gravity will cause the cake to crack in the middle.
While the cake is hot and still in the tin, tug on the baking paper a little to help loosen the cake. This prevents the caramelised oranges from sticking to the tin.
Let the cake sit in the tin for 20 or so minutes. When the cake cools, it'll become sturdier which makes it easier to invert :).
Invert the cake onto a serving plate. Simply place a plate on top of the cake tin (with the serving side face down). Then turn the cake upside down so it is released on the plate. You should hear a very satisfying 'plop' noise.
Remove the cake tin and peel away the baking paper!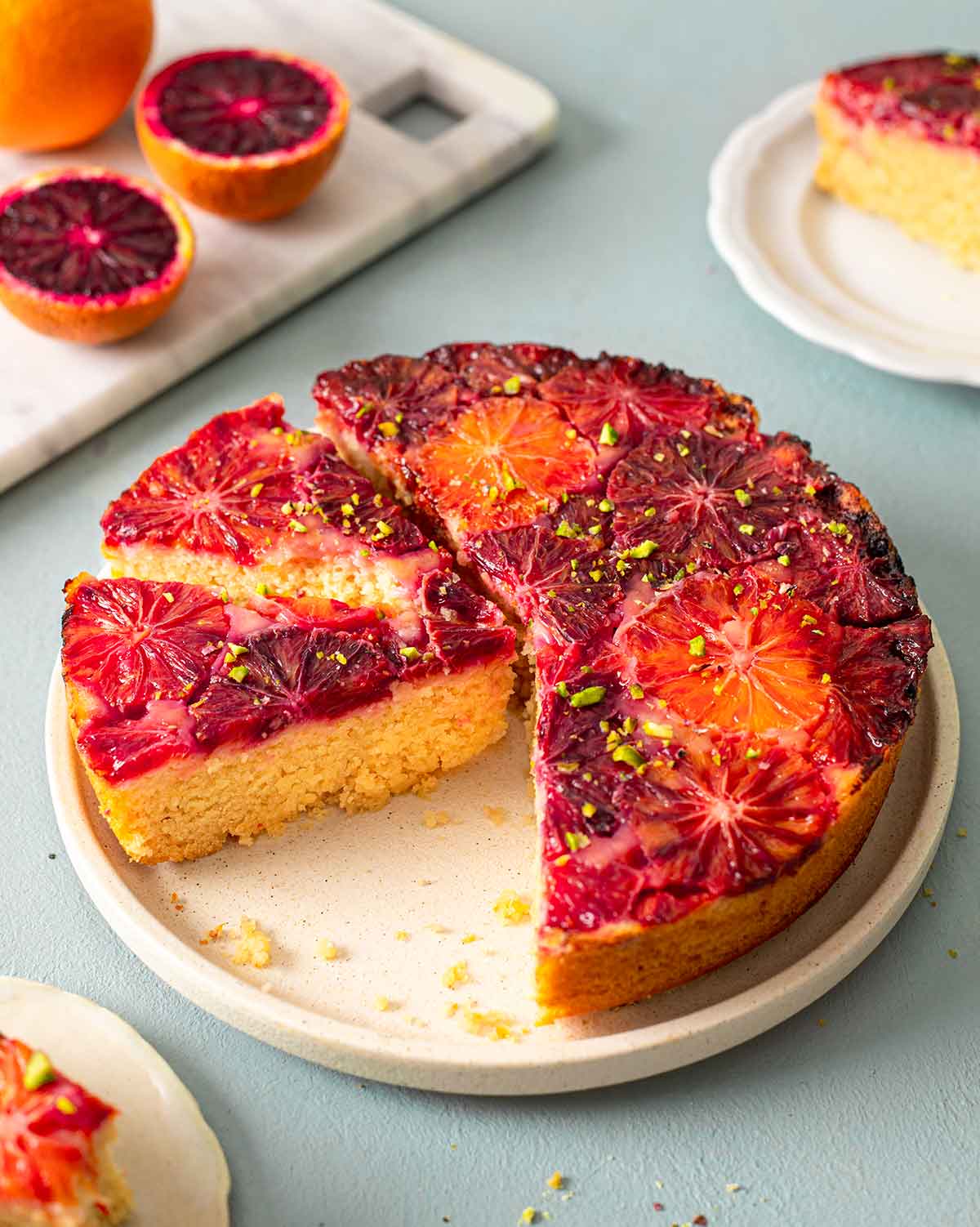 How to serve this cake
The cake is amazing by itself whether it's warm or at room temperature. It definitely doesn't need any frosting but you can dust it with powdered sugar if you'd like.
I also love serving the vegan blood orange cake with a dollop of thick coconut yoghurt, cream or ice cream :).
I hope you enjoy this recipe xo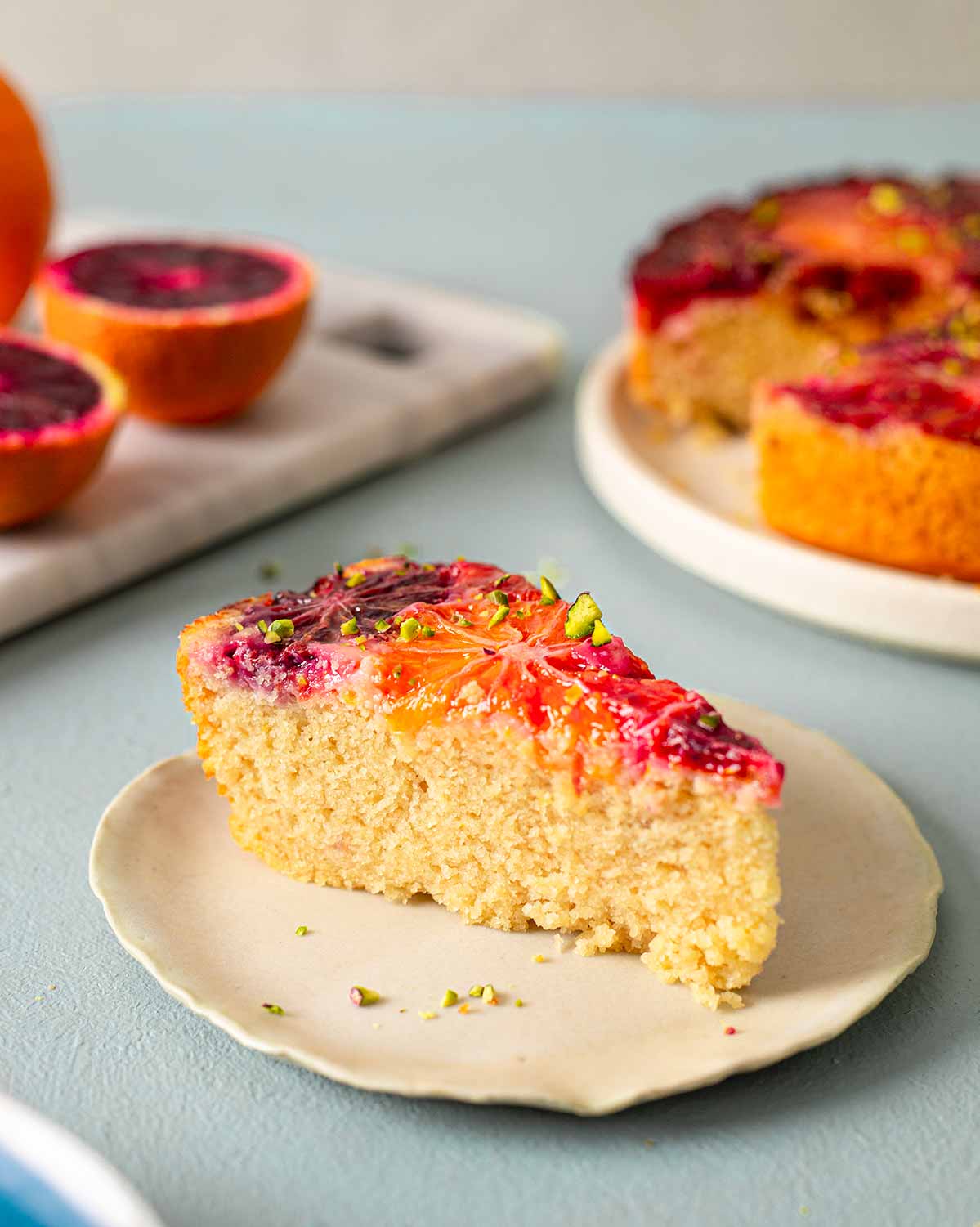 See my other easy vegan cake recipes
Print Recipe
Upside down vegan blood orange cake
Upside down vegan blood orange cake which is fluffy, tender and melts in your mouth. It uses only 6 ingredients, can be made gluten free and is perfect for morning or afternoon tea!
Ingredients
Topping
3-4

blood oranges

Oil

,

or melted vegan butter as needed

2

tablespoons (25g)

granulated sugar

,

or as needed
Cake
2

cups (250g)

all-purpose plain flour,

(note 1 for gluten free)

¾

cup (150g)

granulated sugar

,

(note 2)

½

cup (50g)

almond flour / blanched almond meal,

(note 3 for nut free)

2

teaspoons

baking powder

Pinch of

any good quality salt

½

cup (125g)

blood orange juice and zest

,

from 2-3 medium-sized blood oranges

½

cup (125g)

dairy-free milk, such as almond, soy or coconut
Instructions
Preheat the oven to 170°C (340°F). Line a 20cm (8 inch) round cake tin.
To prepare the topping
Slice one end off each blood orange and carefully cut off the rind of each orange. Using a sharp knife, carefully slice the peeled oranges. The slices should be about 6 mm (¼ inch) thick. Refer to the video in this post for guidance.

Grease the base of your cake tin. Sprinkle the sugar on the base, swivelling your cake tin to make sure it is evenly coated.

Arrange your orange slices on the bottom, trying to make sure there are no large gaps. You can further cut your orange slices to cover any gaps! Set aside.
To make the cake
In a large mixing bowl, combine all the dry ingredients and mix until there are no lumps. Add all your wet ingredients and mix until combined and there are no lumps of flour.

Pour the batter into your cake tin.
To bake and serve the cake
Bake the cake for around 40 minutes or until a skewer can be inserted into the middle and it comes out clean.

Allow the cake to cool in the cake tin for 20 minutes. If there is a dome on the cake, use a serrated knife to cut it off. Invert the cake onto a serving plate and serve! This cake is lovely with a scoop of yoghurt, cream or ice cream.

The cake can be stored in an airtight container in the fridge for 5 days. Allow it to come to room temperature before serving
Notes
To make this blood orange cake gluten free, use 1 cup (100g) almond flour/ blanched almond meal and 1 cup (160g) gluten free all-purpose flour.
This amount of sugar complements a cake which uses slightly bitter blood oranges. The sugar can be reduced to ½ cup (100g) if your oranges are quite sweet, although this will also make the cake more dense. Coconut sugar can also be used instead of cane sugar, though it will change the colour of the cake.
If you need this cake to be nut free, substitute the almond flour for ¼ cup (30g) all purpose flour and 2 tbsp (30g) oil.
Nutrition
Calories:
223
kcal
|
Carbohydrates:
32
g
|
Protein:
3
g
|
Fat:
10
g
|
Sodium:
85
mg
|
Potassium:
49
mg
|
Fiber:
1
g
|
Sugar:
15
g
|
Vitamin A:
28
IU
|
Vitamin C:
7
mg
|
Calcium:
66
mg
|
Iron:
1
mg
This post was originally published in 2018 and updated in 2021 with more helpful information and to simplify the recipe.
Please leave a comment below if you made this recipe, have any questions or thoughts! Your comment will help other readers and Rainbow Nourishments.