Unique deep dish pizza with a beetroot hummus filling and falafel base. Healthy and low fat.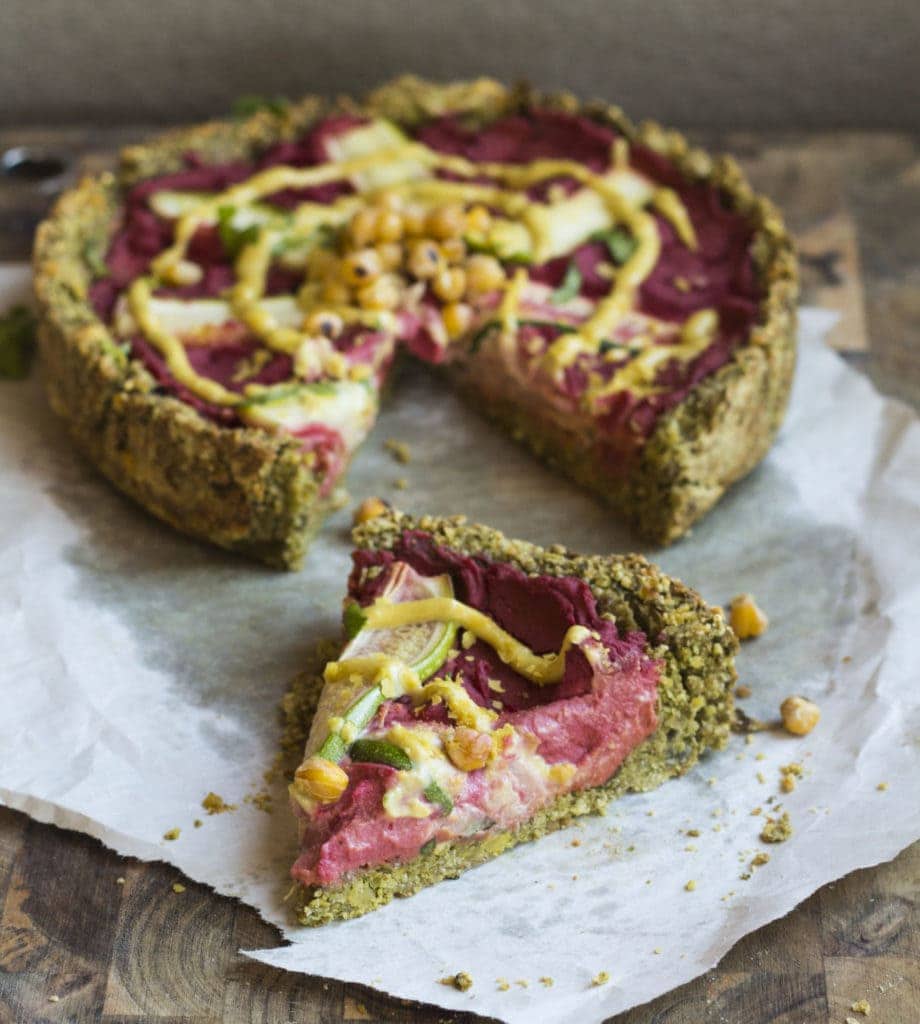 Pizza and falafel are some of my favorite take away foods. I'm even a teeny weeny tempted to go out right now (it's 10am) and get some pizza/falafel as a quick fix. However, I'm recovering from a cold and need to go back to basics, fuel my body with regular and wholesome food that actually has decent nutrition.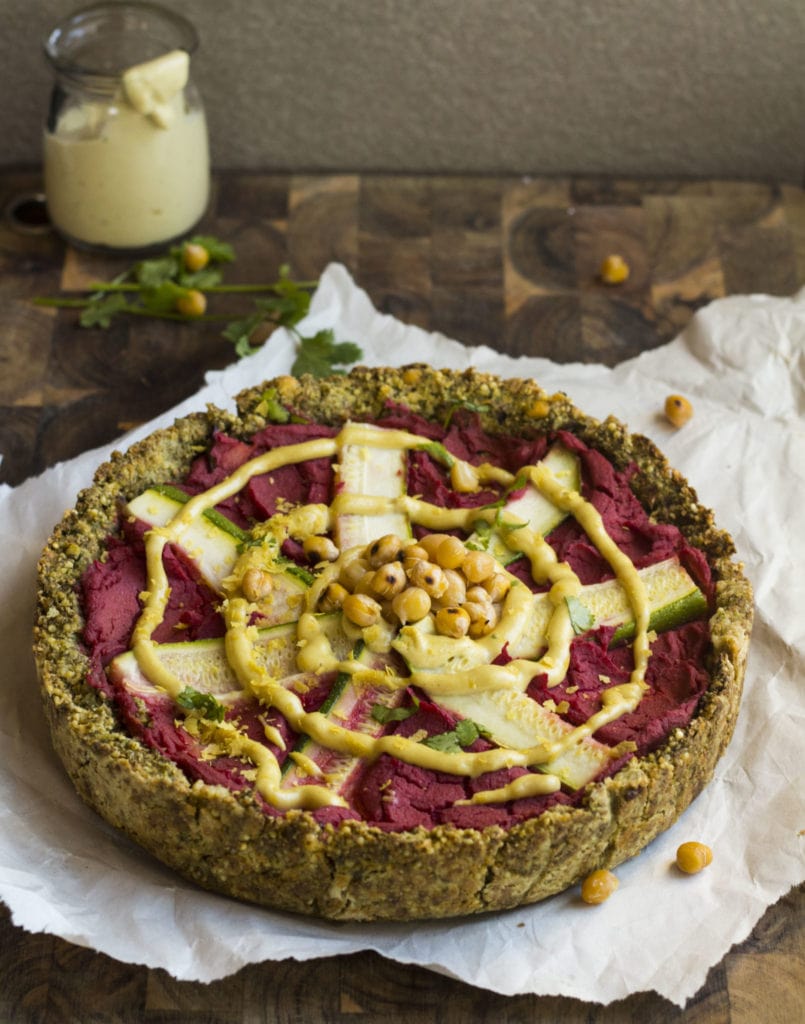 The falafel crust is bulked up with millet as I don't think I could eat 2-3 servings of falafel in a sitting. The beetroot hummus is so creamy and pretty (so it's good for the vibrant part of my soul, right?). It's lightened up with some sliced zucchini (feel free to add whatever veggies you like) and the cheesy tahini sauce is just the icing on the cake.
Actually, when I look at the pizza again, it looks tad like a rainbow doesn't it?
But I'm not complaining here! Falafel. Pizza. Rainbows. Enjoy!
Other unusual vegan dinner recipes:
Print Recipe
Deep dish falafel pizza
Unique deep dish pizza with a beetroot hummus filling and falafel base. Healthy and low fat.
Ingredients
Falafel Crust
¾

cup

chickpeas, either canned or pre-soaked dry

⅓

cup

gf flour (I used millet)

1

small red onion

1

cup

fresh mint

2

cloves

garlic

3

tbsp

tahini

3

tbsp

chia or flax seeds,

finely ground

2

tbsp

cumin powder

2

tbsp

coriander powder
Beetroot hummus layer
1

cup

cooked chickpeas

1

small beetroot, boiled

2

tbsp

tahini

1

clove

garlic

oregano, basil and other herbs as desired
Sliced vegetables as desired
Tahini Cheese sauce
2

tbsp

tahini

As much nutritional yeast as you desire!
Instructions
Preheat oven to 180C. Line a cake tin or deep pie dish with baking paper.

For the crust: Put all crust ingredients in a food processor and whizz until all ingredients have combined. Spread mixture in a cake tin to form a 'pie crust'. Bake for 10 minutes to half-cook.

Meanwhile, for the beetroot hummus: In a food processor, process all ingredients until smooth.

When the falafel crust is dry to the touch, remove from oven.

Layer the beetroot hummus with sliced vegetables in the pizza crust. Return the pizza to the oven for about 30 minutes or until vegetables have cooked.

Meanwhile, for the cheese sauce: Mix ingredients together adding water until desired consistency. Drizzle on pizza and enjoy!