Vegan sweet potato cake with an addictive cinnamon swirl, baked as a beautiful bundt. The cake is drizzled with cashew cream and topped with dessert-like sweet potato crisps.
This post is sponsored by CSR Sugar
This cake. Having your first bite is like a warm comforting hug on a cold harsh Winter day. We all need some kindness in our lives, don't we?!
This vegan sweet potato cake is:
Refined sugar free (apart from a teeny bit of caster sugar in the cashew cream)
Wholesome
Soy-free
Can easily be made nut-free
The sponge has an amazing texture. It is moist, slightly dense and breaks apart in your mouth. Then you get sweet caramel bits of the cinnamon swirl which makes you crave more!
The neutral cashew cream balances out the sweet potato and caramel tones of the cake.
The best unrefined sugar for vegan baking
I swear by using unrefined coconut sugar for baking fluffy sponge cakes. I love liquid sweeteners such as maple syrup but such sweeteners have a high water content so tend to weigh down sponge cakes.
Coconut sugar imparts a light caramel tone on a cake so complements flavours such as chocolate, sweet potato, pumpkin and cinnamon!
The only time I don't use coconut sugar is when I'm baking vanilla cakes as coconut sugar tends to make cakes slightly brown. When baking vanilla cakes, I opt for vegan-friendly cane sugar or caster sugar (cane sugar is coarser than caster sugar).
In Australia, we are lucky to have CSR Caster Sugar which is processed without animal bone char. This is unlike sugar in many other countries where animal bone char is used to whiten sugar!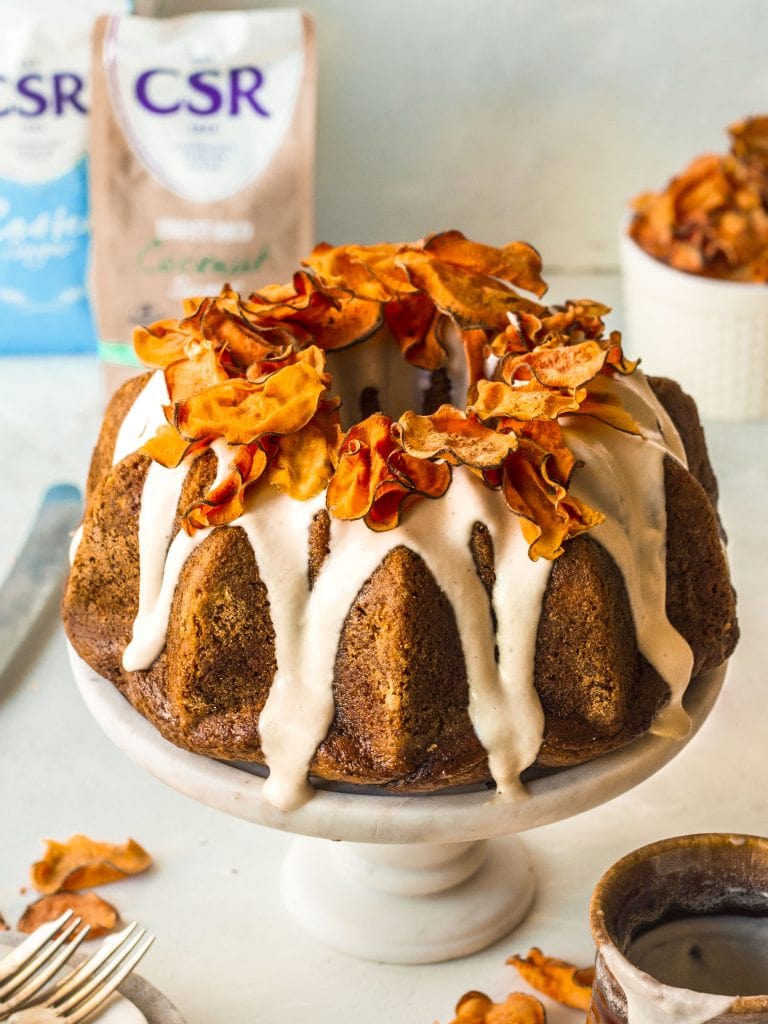 The ingredients in this vegan sweet potato cake
I selected ingredients to create a cake which was fluffy but slightly dense. Sweet potato is very starchy so tends make cakes chewy and dense! I definitely didn't want that!
To create a beautiful crumb and counteract the sweet potato, I used:
Self-raising flour and baking powder. I needed as many baking agents as possible to make sure the cake rises and actually bakes! Of course, I was careful about not using too many baking agents as no one likes a cake which takes strongly of baking powder!
Almond meal. The gluten from the self-raising flour combined with the starch in the sweet potato makes a really chewy cake. I counteracted this with almond meal which has natural oils and no gluten.
Coconut sugar because, as stated before, I needed a granulated sugar to make the cake as light as possible!
Apple cider vinegar because acid breaks down the gluten of the flour and starchiness of the sweet potato.
I didn't need to add any egg replacers in this cake because the starch in the sweet potato acts like a natural egg replacer!

How to make the sweet potato crisps
I had an extra sweet potato so made crisps to decorate the cake! Trust that I would top a cake with potato crisps/chips.... I used a mandolin slicer to slice the potato into really thin 3mm slices then dehydrated them in the oven for 2 hours.
At first, I arranged the potato slices making sure they didn't overlap each other. However, as the sweet potato dried up, I scrunched them together to make aesthetically pleasing shapes (pictured).
Feel like baking something slightly different? Check out my other recipes:
You may also like:
Print Recipe
Sweet Potato and Cinnamon Swirl Bundt Cake
Vegan sweet potato cake with an addictive cinnamon swirl, baked as a beautiful bundt. The cake is drizzled with cashew cream and topped with dessert-like sweet potato crisps.
Ingredients
Instructions
(Optional) Make the crisps 1 day before hand: Preheat the oven to 100°C (210°F). Thoroughly wash the outside of the sweet potato. Use a mandolin slicer to thinly slice the potato into 3mm pieces. Arrange the potato slices on lined baking trays and sprinkle the sugar on top. Bake the potato in the oven for 2 hours or until they are fully dry. Half-way during baking, scrunch or shape the sweet potato slices in the way you would like them to dry. When the sweet potato is crisp, allow it to cool at room temperature. Store the crisps in an airtight container until needed.

Preheat the oven to 160°C (320°F). Brush a bundt tin with oil then lightly dust it with flour.

To make the cake: Add all the dry ingredients to a large bowl and mix until combined. Add all the wet ingredients and mix until combined.

To make the cinnamon swirl mixture: Add all the ingredients to a small bowl and mix until smooth.

To assemble the cake: Pour ⅓ of the cake batter into the bundt tin. Drizzle ⅓ of the cinnamon swirl mixture on top. Repeat until both mixtures have been used up. Dip a knife into the mixture and gently swirl the mixtures together.

Bake the cake in the oven for 1 hour 10 minutes or until a skewer can be inserted into the cake and it comes out clean. Allow the cake to cool in the bundt tin for 10 minutes. Turn it upside down on a wire rack and leave it for another 10 minutes. Gently tap the tin on the wire rack to allow it to come out.

To make the cashew cream: Add all ingredients to a blender and blend until as smooth as possible. Set aside until as needed.

To assemble: Drizzle the cashew cream on the bundt cake as desired. Top with the sweet potato crisps and enjoy immediately. Store the leftovers in an airtight container at room temperature for 1 day, in the fridge for 5 days or in the freezer for up to 1 month. Keep the crisps separate from the cake as they will soften from the moisture.
Please leave a comment below if you made this recipe, have any questions or thoughts! Your comment will help other readers and Rainbow Nourishments.