Fudgy and decadent vegan beetroot brownies with a smooth avocado chocolate mousse frosting. Approved by vegans and non-vegans alike!
These vegan beetroot brownies are one of my most decieving recipes on this blog. Despite having beetroot and avocado as key ingredients, they are:
Rich and fudgy
Decadent
Addictive
Indulgent
They also happen to be refined sugar free and eggless! If you love the idea of healthy vegan brownies but don't want beetroot, see my recipe for sweet potato brownies or my 5 ingredient no bake vegan brownies.
Ingredients to make the vegan beetroot brownies
We need some simple ingredients including:
Plain or all-purpose flour
Beetroot puree (I made mine from scratch)
Vegan-friendly chocolate
Coconut sugar. Cane or brown sugar will work too.
Cocoa powder
Ground flax or chia seeds. This helps the flour bind together, otherwise the brownies are crumbly.
Baking powder and baking soda
A little sunflower oil but any other liquid oil will work.
A little plant-based milk or water
But why do we put beetroot in brownies?
Other than being a healthy vegetable, adding beetroot to brownies has several delicious benefits!
The water or juice from the beetroot makes the brownies extra fudgy (and moist). Fruit and vegetables tend to make cakes more dense. You know how banana bread is more dense than a normal vanilla cake?! It's just like that!
The beetroot gives the brownies a beautiful red hue which is reminiscent of red velvet baked treats!
For brownies, this is just what we want. Perfect. Fudginess.
I haven't tried substituting the beetroot for other vegetables, but I imagine pumpkin and black beans would work. Let me know if you try other vegetables!
Will the brownies taste like beetroot?
It depends! If you puree your beetroot finely enough and with enough melted chocolate, you won't taste the earthy red vegetable.
If you do happen to taste the beetroot, it's very faint! My partner isn't a huge fan of beetroot and he devours these brownies!
I've served these brownies to non-vegans multiple times and they don't always notice there is beetroot in them. My brownies are often slightly red, so they just assume I added food colouring to them, haha!
Will the frosting taste like avocados?
No! Similar to the beetroot in the brownies, if you add enough sweetener and cocoa powder to the avocado frosting, you're on your way to bliss.
If you've never had avocado mousse/avocado frosting before, just imagine the creaminess of avocado with the irresistable taste of chocolate. Combine those elements and BAM!
For the frosting, I used:
A ripe avocado. If your avocado has some brown spots and a little too ripe, it definitely still will work well!
Cocoa powder
Medjool dates, pitted
Maple syrup or any other liquid sweetener
Making the vegan avocado mousse frosting
You can use dried dates instead of medjool dates but just make sure you soak them in water beforehand so they become soft!
To make the avocado frosting, I simply added all the ingredients to a small food processor and blitzed it. Alternatively, you can add the ingredients to a medium bowl and blend them with a hand blender.
If your frosting is too thick to blend, I'd strongly recommend adding a little liquid to help your food processor or blender. You can use plant-based milk, some of the excess beetroot water from boiling it or just water.
However, add the liquid a little at a time as you still want a thick spreadable frosting, not a chocolate drink!
Depending on the quality of your medjool dates, you may have some tiny chunks of dates throughout the frosting. If so, add some liquid and keep on blending.
If you have time, allow the frosting to sit for 1 hour as this will force the pieces of dates to soften. When you blend it again, it'll be easier!
I hope you enjoy this recipe!
More healthy vegan brownie recipes
Or other vegan chocolate recipes
You may also like: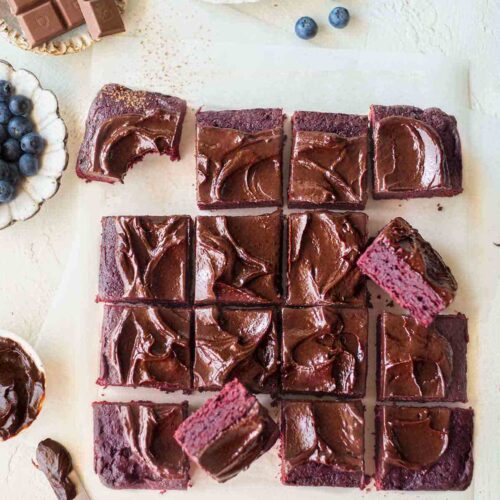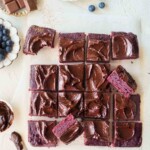 Print Recipe
Beetroot Brownies with a Chocolate Avocado Frosting
Fudgy and decadent vegan beetroot brownies with a smooth avocado chocolate mousse frosting. Approved by vegans and non-vegans alike!
Ingredients
Chocolate Avocado frosting
Instructions
Preheat the oven to 180°C (350°F). Line a 20 cm or 23 cm (8 inch or 9 inch) square baking pan with baking paper.

Add all the dry ingredients to a medium-size bowl and mix until there are no lumps. Add all the wet ingredients to the bowl and mix until combined. Pour the batter into your baking pan and smooth the top.

Bake the brownies in the oven for 15-20 minutes (shorter if you like them fudgy, longer if you like them more crispy). The brownies are ready when the surface is dry. They will set more over time. Allow the brownies to cool in the baking pan.

To make the frosting: Add all ingredients to a food processor and puree until it is as smooth as possible.

When the brownies are cool, spread the surface with the avocado frosting.

The brownies can be stored in an airtight container in the fridge for 5 days or in the freezer for up to 1 month.
Notes
* If you're making the beetroot puree from scratch, peel and chop 1-2 whole beetroots. Add the beetroot to a small pot of boiling water and boil for 5-10 minutes or until tender. Place the beetroot (without the water) in a food processor and process until it is as smooth as possible. Add 1-2 tbsp of the reserved water if the beetroot is not breaking down and process it again.
Nutrition
Serving:
1
brownie
|
Calories:
228
kcal
|
Carbohydrates:
34
g
|
Protein:
3
g
|
Fat:
11
g
|
Sodium:
59
mg
|
Potassium:
212
mg
|
Fiber:
4
g
|
Sugar:
16
g
|
Vitamin A:
32
IU
|
Vitamin C:
2
mg
|
Calcium:
28
mg
|
Iron:
1
mg
This post was originally published in June 2015 and updated in February and October 2020.
Please leave a comment below if you made this recipe, have any questions or thoughts! Your comment will help other readers and Rainbow Nourishments.